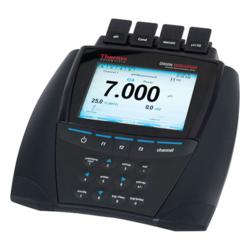 Vernon Hilla, IL (PRWEB) March 01, 2012
For an advanced electrochemistry meter that offers versatility for multiple uses, Cole-Parmer introduces the Thermo Scientific Orion VERSA STAR™ Meter. Measure up to four channels at once! Customize channels by selecting from five interchangeable parameter modules: pH, pH/ISE, conductivity, DO/RDO, and pH with LogR. Read measurements on the large color graphic LCD with intuitive multilingual (English, Spanish, French, Italian, German, and Chinese) interface. Nonvolatile memory holds up to 2000 data points with time-and-date stamp. Transfer data via two USB and RS-232 ports.
Choose the meter with separate modules, the meter with module packages, or full kits containing meter, modules, electrodes, and solutions. Easily add or switch out modules as needed. For more information, call 800-323-4340 or visit ColeParmer.com/19071.
Cole-Parmer has been a leading global source of laboratory and industrial fluid handling products, instrumentation, equipment, and supplies since 1955. Our product lines, including popular brand names such as Masterflex®, Oakton®, and more, are sold through company-owned customer channel outlets and a strong network of international dealers. We also feature an ISO-17025-accredited metrology lab for instrument calibration and repair. Cole-Parmer responds with excellence to customer needs, and offers application expertise and technical support. For more information, contact Cole-Parmer, 625 East Bunker Court, Vernon Hills, IL 60061. In the US, call 800-323-4340. International customers, call 847-549-7600. Visit us at http://www.coleparmer.com.
###