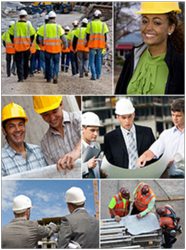 The reason for Construction Connection's effectiveness is the precise matching of candidates' qualifications and experience level to corresponding job descriptions.
Syracuse, NY (PRWEB) March 05, 2012
A New York labor support company expressed gratitude for an exceptional job fulfillment experience with Construction Connection. Construction Connection, the rapidly growing online community of construction industry professionals, offers a variety of resources and networking opportunities for construction employees and businesses. ConstructionConnection.com allows people who are seeking work in the construction industry to view company profiles of businesses that want to connect with experienced, qualified job candidates.
While other job search sites offer generic information and job-matching services for employment in construction, Construction Connection gives those seeking construction jobs the opportunity and resources to be successful in their specialized field, while companies or recruiters are able to actively and easily search for qualified workers and professionals.
Kelley Sweeney, a recruiter at Tradesmen International, began using Construction Connection in April 2011. It is now her primary resource for locating and screening new construction hires. Sweeney represents Tradesmen International's construction labor support company on Construction Connection. Last year she was searching for experienced ironworkers for a steel company in Syracuse, New York and used the Construction Connection site to find 6 seasoned, knowledgeable ironworkers in her first search. Follow-up interviews confirmed that the six new employees fit well with their new company and both the company and the ironworkers had positive feedback regarding the Construction Connection system.
In addition to the successful hiring of the ironworkers, Sweeney has utilized Construction Connection to find employees for a variety of other construction specializations including carpenters, pipefitters, electricians, and general labor, from apprentices to expert journeymen to masters. She expressed appreciation for the quality of candidates presented by Construction Connection, stating that the reason for Construction Connection's effectiveness is the precise matching of candidates' qualifications and experience level to corresponding job descriptions. Sweeney also appreciates that the Construction Connection system allows recruiters to be proactive in their search for people rather than wait for potential employees to contact the company.
Construction Connection was created out of a need for a more effective and streamlined way for construction industry professionals to get matched with the right industry jobs and with the right industry opportunities. The partners of Construction Connection, both industry professionals themselves, listened to both company and individuals' dissatisfaction with the traditional job boards, the paid resume blasts, the overpriced resume services and overall lack of sympathy toward the individual candidate. We also listened to the dissatisfaction from companies who post jobs only to get many irrelevant results or having to purchase high priced ads to showcase their company. Construction Connection is a patent-pending, one-of-a-kind profile creating / match-making system. The system delivers effective results. Construction Connection saves you time, money and aggravation by matching people to people, people to companies, companies to people, and company to company.