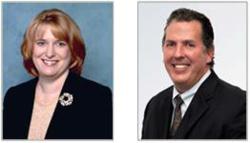 "With their leadership skills and diverse experience in the aviation industry, they will enhance the ability of the firm to provide the highest quality professional services to our clients," said Michael K. Payne, Managing Partner.
Boston, Massachusetts (PRWEB) March 01, 2012
The Jones Payne Group, Inc. announced that Diane Bryant Carter and James P. Clinnin have become Principals of the firm. Ms. Carter recently joined the firm and serves as Project Director for the Fort Lauderdale-Hollywood International Airport Noise Mitigation Program. Mr. Clinnin joined the firm in 2007 and serves as Program Manager for the San Diego County Regional Airport Authority's Quieter Home Program.
Ms. Carter has over 20 years experience specializing in airport noise and environmental issues and mitigation planning and program implementation. Her experience at both air carrier and general aviation airports provides a broad range of expertise conducting specialized studies including Part 150 and implementation of recommended programs. Ms. Carter focuses on the development and implementation of large-scale noise mitigation programs such as sound insulation of residential and institutional structures and voluntary land acquisition. Prior to joining Jones Payne, Ms. Carter held positions at The Urban Group, the MEA Group, and the Rhode Island Airport Corporation.
Mr. Clinnin has extensive experience in noise mitigation and environmental remediation, including historic evaluations, architectural, mechanical, electrical and acoustical designs, cost estimating, bid assistance and evaluations, and construction administration. In addition, Mr. Clinnin has managed logistic, staffing, and support services to ongoing sound insulation programs, marketing efforts, and proposal development. He has worked on several RSIP programs, including the City of Inglewood, Bob Hope Airport, the County of Los Angeles, and the City of El Segundo. Prior to joining Jones Payne, Mr. Clinnin held positions at Wyle Laboratories and Bittner Construction.
"We are very pleased to have Diane and James join the Principals Group at Jones Payne," said Michael Payne, Managing Partner of the firm. "With their leadership skills, their diverse experience in service to the aviation industry, and the respect that they enjoy from peers and clients, they enhance the ability of The Jones Payne Group to continue to provide the highest quality professional services to our clients. Diane and James are both important building blocks to our firm's future, and we are fortunate to have them as part of the firm's senior management."
About The Jones Payne Group, Inc.
The Jones Payne Group is a nationally recognized leader in the planning and implementation of community-focused programs and provides architecture, urban planning and design, program management, and information management services and products to the public and private sector. The firm has been involved in a variety of transportation and housing planning, design, and technology implementation projects including design and construction for airport environmental mitigation and capital improvement programs. Headquartered in Boston with offices across the U.S., The Jones Payne Group offers planning, community outreach and liaison services, capital needs assessments, existing conditions surveys, community development, and information technology management services. In addition, the firm's web-based software product, WeaverPRM™, provides property relationship management capabilities to community land trusts, community development corporations, land banks, housing authorities, and environmental mitigation programs.
For more information, visit http://www.JonesPayne.com or call Michael Payne at 617-790-3747.
###