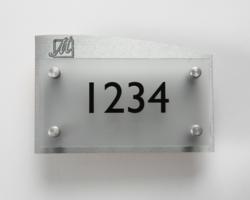 As a Preferred Fabricator of NovAcryl sign material, Dixie Graphics now offers architects and sign designers the creative freedom to make signs part of a building's design and have them installed with confidence
Nashville, TN (PRWEB) March 05, 2012
Dixie Graphics, leading manufacturer of zinc ADA signage for the architectural industry since 1990, has joined the elite ranks as a Nova Polymers Preferred Fabricator of NovAcryl®, the world's most expansive line of high-quality photopolymer ADA signage.
Nova Polymers' Preferred Fabricator status gives architects and designers the assurance they are working with the finest ADA sign fabricators in the industry. ADA sign fabricators go through a rigorous process to earn Preferred Fabricator status, including subjecting their manufacturing operations to audits that ensure compliance with material processing guidelines, ADA compliance, quality control, and cycle times.
"Our company has earned its reputation as an ADA signage and plaques manufacturer because of our dedication to customer needs," said Matt Williams, Manager of Dixie Graphics' architectural signage division. "Nova is a natural fit as a partner as we share the same values related to quality, service, and environmental stewardship. The materials that Nova manufactures are a great compliment to etched zinc and offer many new options to architects and designers," added Williams.
Nova Polymers developed their Preferred Fabricator program to recognize sign fabricators listed as "acceptable manufacturers" in the NovAcryl® photopolymer 3-part CSI specification. NovAcryl® high-resolution raised graphics and tactile signage give architects and sign designers the creative freedom to make signs part of a building's design. With NovAcryl®, the sky is the limit when it comes to colors, patterns, textures, and finishes.
For more information about Dixie Graphics visit http://www.dixiesignagesolutions.com or call 615-832-7000.
About Dixie Graphics
Dixie Graphics has been a leading manufacturer of etched zinc ADA signage and deep-etched zinc plaques in the architectural signage industry since 1990. Earning Nova Polymers' Preferred Fabricator status, and offering NovAcryl® high-resolution raised graphics and tactile signage gives architects and sign designers the broadest selection of high-quality ADA signage. In addition to manufacturing, Dixie has been an educator to the architectural and design community on accessible design and ADA signage codes, and plays a lead role in education programs offered by the Society for Environmental Graphic Design (SEGD).
###