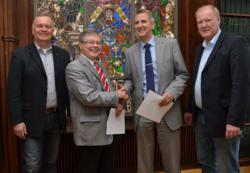 Strategically, DTI Cloud will allow us to be more cost-effective so we will perform better for our audience.

Frank Dallmann
Publisher
Delmenhorster Kreisblatt
(PRWEB) March 01, 2012
Digital Technology International (DTI™) has signed a contract with Delmenhorster Kreisblatt, a newspaper near Bremen, Northwestern Germany, to upgrade and implement their DTI ContentPublisher editorial solution in DTI Cloud, the company's Software-as-a-Service (SaaS) cloud-publishing platform. This signing is the first German DTI Cloud contract for Digital Technology. The project is planned to be finished in the second-quarter 2012 completion.
Delmenhorster Kreisblatt is a daily newspaper published since 1832, and has been a near decade-long DTI customer, installing DTI's editorial system in 2002. In 2008, Delmenhorster Kreisblatt continued to strive for innovative and cost-performing ways to compete in their market by implementing DTI Lightning, DTI's Web-publishing solution and a component of DTI ContentPublisher. They were the first German customer to completely rebuild their website http://www.dk-online.de using DTI Lightning.
"It's logical that DTI Cloud is the next step for us. We are in a competitive environment and needed an innovative way to manage and produce the newspaper, publish breaking news immediately to the Web, and keep up with growing digital demands," said Frank Dallmann, Publisher of Delmenhorster Kreisblatt. "Strategically, DTI Cloud will allow us to be more cost-effective so we will perform better for our audience. We can concentrate our efforts on more strategic initiatives, and do what we do best—produce a high-quality newspaper and website for our readers. This decision will help us well into the future."
"Delmenhorster Kreisblatt has always been an innovator so it is natural that they moved quickly to become our first German customer to go to DTI Cloud," said Ernst J. Komberg, Managing Director of Digital Technology, Germany. "They can now be even more competitive by always having the newest versions of DTI ContentPublisher and DTI Lightning. Plus they will have flexibility to create content for all channels from anywhere they have internet access."
The Delmenhorster Kreisblattnews team, using DTI ContentPublisher and DTI Lightning in DTI Cloud, will produce high-design print, digital, and mobile content, and create dynamic Web pages. The DTI software also includes support for Open Source Web applications.
Digital Technology delivers Digital All Ways.
About Digital Technology International: Digital Technology International (DTI™) delivers digital audience engagement, digital revenue expansion and digital cost performance for the global news media industry. The company's innovative technology and professional services help media organizations engage audiences by delivering targeted news and advertising with Web, print, mobile and social media. On-site or via DTI Cloud Digital Technology software helps more than 2,000 publishers around the world compete and win across all channels. The company is headquartered near Salt Lake City, with offices in Australia, Brazil, Canada, Denmark, Finland, France, Germany, Panama, the United Kingdom and the United States. Digital Technology may be found at: http://www.dtint.com
###