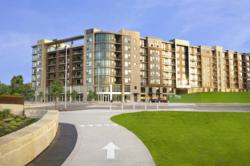 Each detail of the community was carefully planned in an effort to maximize the quality of product delivered while offering eco-conscious features and amenities." Ben Pisklak, Vice President of Investments for Gables Residential.
Austin, TX (PRWEB) March 01, 2012
Gables Residential is pleased to announce that Gables Park Plaza, a mixed-use luxury apartment community located in Austin, Texas, has received LEED-Silver certification from the United States Green Building Council (USGBC).
"Gables Park Plaza represents an exciting urban development that offers a host of sustainable features and amenities," says Ben Pisklak, Vice President Investments for Gables Residential. "Each detail of the community was carefully planned in an effort to maximize the quality of product delivered while offering eco-conscious features and amenities."
Within the 290 luxury apartment homes, Gables focused on incorporating a variety of "green" features such as using renewable bamboo flooring in all residences, low VOC paints, energy efficient lighting, improved insulation, 14 SEER HVAC equipment, roof system with high SRI (Solar Reflective Index), Energy Star appliances and solar shades in each apartment home. Community amenities include electric vehicle car charging stations (EVCs), preferred fuel efficient parking, recycling bins and rain sensors on irrigation systems.
Nestled between Downtown Austin and Lady Bird Lake, Gables Park Plaza is surrounded by shopping, dining and entertainment options. The community is walking distance to Cap Metro stops, encouraging public transportation. At the community, an extensive amenity package ensures residents have a wide variety of recreational and gathering areas, including a roof top swimming pool, Sky Lounge, gourmet kitchen, entertainment/theatre and lounge, fitness center, as well as approximately 13,000 square feet of ground-floor retail space, anchored by Luke's Locker.
"Park Plaza has been very well received, and as a result we are announcing plans for a second community adjacent to Park Plaza. Construction began on February 1, 2012 and will include 222 luxury apartment homes and retail space," says Jennifer Wiebrand, Development Director of Gables Residential. "The excellent location of Park Plaza, coupled with innovative design and green features will appeal to residents who appreciate high quality and desire eco-friendly living." The new community will also seek LEED certification and is slated open fall 2013.
About Gables Residential
With a mission of Taking Care of the Way People Live, Gables Residential has received national recognition for excellence in the management, development, acquisition and construction of luxury multi-family communities in high job growth markets. Gables Residential owns, develops and manages multi-family communities and mixed-use developments in Atlanta, Austin, Dallas, Houston, South Florida, Southern California, and metropolitan Washington, D.C. Additionally, it has third-party management operations in the Chicago, New York, Boston, Phoenix, Central and North Florida, and Washington State markets. Gables Residential enjoys a healthy portfolio with approximately 37,000 apartment homes under management, including a corporate-owned portfolio of 55 stabilized communities comprising approximately 14,400 apartment homes. An additional 7 communities are under development/lease-up, comprising approximately 2,000 apartment homes. Gables also has the ability to develop another 2,000 apartment homes through its shadow pipeline of undeveloped land owned. For more information please visit http://www.gables.com.
###