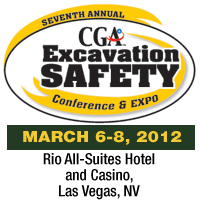 We look forward to learning more about excavation, safety and damage prevention. Much of that work takes place at night and we're eager to learn and show how our lights can make jobs in this industry safer and more efficient
VIsta, CA (PRWEB) March 02, 2012
FoxFury Lighting Solutions is excited to exhibit at the CGA Excavation Safety Conference and Expo, the largest gathering of industry professionals dedicated to damage prevention and excavation safety. FoxFury will be displaying its LED area lights, headlamps and more in booth 114. The show runs March 6-8 at the Rio All-Suite Hotel and Casino in Las Vegas.
FoxFury exhibited its safety helmet lights at CGA (Common Ground Alliance) in 2010. FoxFury's product line has expanded since then. FoxFury will have headlamps and hard hat lights, flashlights and quick deployment LED scene lights at its booth. Here's a quick summary of the lights we'll display.
FoxFury's offers industrial-strength LED headlamps and hard hat lights for confined space, hazardous area and general use. All headlamps employ the latest LED technology and offer a wider beam for panoramic lighting. Some models are intrinsically safe, which enable them to be used for maintenance and inspection in hazardous locations including Hazmat, oil refineries and gas pipelines.
The Nomad 4000 Area-Spot light is a combination area light and spotlight. It is portable, cordless and rechargeable. Built-in legs enable quick deployment (20 seconds) and travel to remote areas. An internal Li-ion rechargeable battery system provides up to 9 hours of battery life. This plug-and-play light requires no noisy, heavy, pollution-generating generators.
FoxFury's Rook Series flashlights are both compact and powerful. They run on two CR123 batteries or one 18650 battery and provide focused and distance lighting. White (general illumination) and white/UV (leak detection) models will be on display at the show.
"We look forward to learning more about excavation, safety and damage prevention. Much of that work takes place at night, and we're eager to learn and show how our lights can make jobs in this industry safer and more efficient," said Antonio Cugini, FoxFury's Director of Marketing.
About FoxFury Lighting Solutions:
FoxFury Lighting Solutions creates unique and cutting edge lighting products that reflect the needs of our customers, who demand quality and dependability. FoxFury is best known for its niche LED headlamps designed for specific markets including Fire, Industrial, Hazardous Area, Law Enforcement, Forensics and Recreational. FoxFury was formed in 2003 and operates out of Vista, CA USA.
About CGA:
The CGA Excavation Safety Conference & Expo is the largest show of its kind in the underground industry. We bring you the most current market information and set the standard for quality educational opportunities.
###