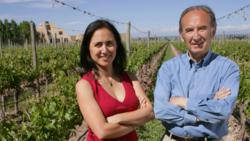 Trialto's dedication to distributing historical family wineries makes them an ideal partner for Catena in Canada."
Laura Catena
Vancouver, British Columbia, Canada (PRWEB) March 03, 2012
Trialto Wine Group, Canada's leading premium wine import sales and marketing agency, announces an expanded partnership with Argentina's iconic winery Bodega Catena Zapata. Catena joins the Trialto portfolio in all of the Atlantic Provinces as well as Quebec, and continues with Trialto in Ontario and the Western Provinces.
Laura Catena, Managing Director of Bodega Catena Zapata, said of her decision, "Bodega Catena Zapata and the Trialto Wine Group have been partners in Canada for many years. Our distribution in Canada has grown over the last decade and we have come to the conclusion that a national partner will best allow us to promote our wines and our region to the Canadian people. Trialto's dedication to distributing historical family wineries makes them an ideal partner for Catena in Canada."
Rick Toller, President of Trialto, adds, "Trialto is very fortunate to have so many positive and rewarding relationships with our winery partners from all around the world. However there is a special connection with Catena. The Catena family is focused on excellence and quality and constant improvement. To know that they entrust us with their business all across this country is gratifying. Trialto is committed to 'Wines of People, Place and Time™', and to being a truly national company. We feel that the addition of Catena to the Atlantic markets and Quebec signals to our industry peers and partners that Trialto is indeed a leader in all markets across Canada."
About Bodega Catena Zapata:
Bodega Catena Zapata is a hundred year old family-owned company rooted in the principles of: effort, study, innovation, personal responsibility and sustainability. In the 1980s Nicolas Catena embarked on a journey to elevate the wines of his nation to the world stage. Nicolas made a commitment to making and distributing world-class, distinctively Argentine wines that could compete with the best of the world in the premium wine segments. The family and the company, Catena, is dedicated to maintaining its position as the pioneer of Argentine Malbec and South America's Grand Cru, while continuing to explore new viticulture opportunities within Argentina. In 2009 Decanter Magazine announced Nicolas as their Man of the Year in recognition of his lifetime of achievements. Daughter, Laura Catena, is now President of the winery and, she continues the family tradition of the pursuit of excellence.
About Trialto Wine Group Ltd:
The Trialto philosophy is 'Wines of People, Place and Time™': "The wines we represent tell a story about the people that make them, the place they come from and the period in which they are made," says President, Rick Toller. "This guides our entire business, as the Trialto focus is to source, import, market and sell wines from premium family-owned wineries representing important wine regions around the world. We represent incredible premium wines from around the world and serve the Canadian market by helping liquor boards, retailers and restaurants source, sell and market these wines," he continues." We measure our success by the success of our winery partners and the success of our channel customers."
###