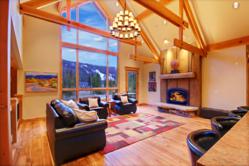 Keystone, CO (PRWEB) March 02, 2012
SummitCove Vacation Rentals, located in Keystone, Colorado is the first property managment company to implement a "Browse Lodging by Pictures" option on its website.
SummitCove offers nearly 300 properties to fit a variety of needs in each of Keystone Resort's various neighborhoods and condominium buildings, private homes and town homes. Previously, guests of SummitCove were able to filter their lodging search by location, budget, property size and amenities. The option to browse by photo is an entirely new way for visitors to Keystone to search accommodations.
The new feature is available on the SummitCove homepage. SummitCove Vacation Lodging is unique in that guests are always guaranteed that the property viewed and booked online is the exact property that they will stay in during a visit to Keystone.
The additional convenience of browsing for lodging by property photo is tailored toward guests who wish to select a vacation rental property based upon decor, visual appeal or pictured amenities. With a collection of photos to choose from, SummitCove guests will be able to select a property that best meets their individual needs to plan a worry-free vacation.
###