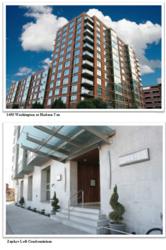 Parsippany, NJ (PRWEB) March 02, 2012
Planned Companies, a leader in the janitorial, maintenance, security, and concierge services industry, expands its New Jersey portfolio with the additions of two premier Gold Coast residential properties in Hoboken and Jersey City.
1450 Washington at Hudson Tea, offering new luxury condominiums in Hoboken, signed on with Planned Building Services for janitorial services and Planned Lifestyle Services for concierge services. The building is the newest addition to the prestigious Hudson Tea community and is set on the historic site of the former Lipton Tea Factory. 1450 Washington offers a wide array of resident amenities such as a beautifully landscaped community rooftop terrace with an open-air fireplace and barbeque, a state-of-the-art fitness center, and is in an ideal location, surrounded by several spacious parks, shops and restaurants.
Expanding its presence on New Jersey's Gold Coast, Planned Companies also welcomed the addition of Zephyr Loft Condominium to its growing roster of clients. The 102-unit residential loft property on 689 Marin Blvd. is conveniently located on the border of Historic Hoboken and Downtown Jersey City, and it is only minutes away from Manhattan via the PATH train, NY Waterway Ferry or NJ Transit bus.
"As we continue our expansion throughout the Northeast, we are thrilled to provide our Planned Building and Planned Lifestyle services for these premier properties in Hoboken and Jersey City," said Jonathan Kessler, VP of Business Development for Planned Companies. "With our corporate headquarters located in Parsippany, Planned's successful growth in the region is due in part to our knowledge of the local submarkets, which enables us to consistently deliver the specialized, high-quality services our New Jersey clients require."
About Planned Companies
Planned Companies is an industry leading real estate service organization, providing janitorial, maintenance, security guard and concierge/doorman solutions throughout the Northeast. Planned's growth is fueled by its ability to consistently exceed client expectations and deliver on its service promise. Planned Companies is comprised of four professional real estate service divisions: Planned Building Services, Inc. - Planned Security Services, Inc. - Planned Lifestyle Services, Inc. and Clean, Inc. Through its four divisions, Planned serves a wide array of clients, including corporate, residential (rental, condo and co-op), commercial and retail properties across seven (7) states – Connecticut, New York, New Jersey, Pennsylvania, Maryland, Virginia, and Washington D.C.
# # #