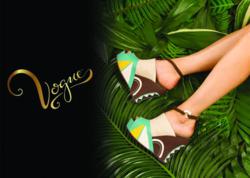 "We created a concept that is trend-right driven by unexpected pieces that make a bold statement."
ST. LOUIS, MO (PRWEB) March 02, 2012
Employee-owned footwear company, Elan Polo, introduces its women's fashion brand, Vogue. With sophistication and a playful sensibility, Vogue delivers fresh and feminine styles to its confident, fashion-forward customers. The Vogue brand incorporates a love of culture, music, art and vintage fashion into its designs to create statement pieces that are bold, unique and the epitome of casual glamour.
The spring collection features striking silhouettes and unique materials that are sexy, cool and subtly edgy. From lucite heels to flatform espadrilles, Vogue is committed to delivering modern and fresh styles that will keep its customer in vogue. Designer Jamie Bethke comments, "We created a concept that is trend-right driven by unexpected pieces that make a bold statement."
Overwhelming interest in the spring and fall 2012 Vogue collections has garnered industry buzz and considerable press in trade publications. The spring collection, priced at $92-$124, is available at select retailers and online at http://www.voguefootwear.com.
ABOUT ELAN POLO INTERNATIONAL
Elan Polo International is an employee-owned footwear company that designs and sources over 45 million men's, women's and children's shoes annually. Headquartered in St. Louis, Missouri and Nashville, Tennessee with international sales offices in Cape Town, London, Paris, Sydney and Toronto, Elan Polo operates branded and private label business to the world's best known retailers across multiple channels of distribution. Our footwear brands include Build-A-Bear Workshop, CREVO, Daniel Green, Easton, Exersteps, Gotcha, L.B.Evans, Mitre, Nerf, Riddell, Vogue and Woolrich. In addition, Elan Polo continues to operate a growing e-commerce business. For more information about Elan Polo, call 314.655.3300 or visit http://www.elanpolo.com.
###