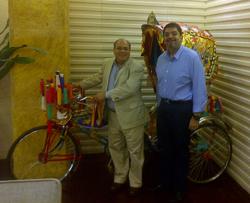 "[With Tukatech,] we have already seen our pattern makers more than double the number of patterns they can produce in one day."
Los Angeles, CA (PRWEB) March 02, 2012
Tukatech is pleased to announce that Epic Group, one of Asia's most prominent garment manufacturers, has converted all of their CAD systems to Tukatech's TUKAcad. Epic Group has a reputation for utilizing advanced techniques and cutting edge technology to produce highly technical garments for a global customer base.
Based in Hong Kong, Epic Group was founded in 1971 and has manufacturing facilities in Bangladesh, Vietnam, and Sri Lanka. Epic Group produces over 4 million garments each month, many of which are treated at the company's in-house facilities that specialize in wet and dry processing, embroidery, printing and wrinkle-free post-cure treatments. CEO Ranju Mahtani and his team have focused on developing and improving the science and technology of garment production, and believe that switching to TUKAcad was the next logical step in operating cutting edge production facilities.
Epic Group is no stranger to CAD technology, and until recently, utilized garment production software from Lectra, Gerber, Assyst, Optitex, and Morgan. Ranju Mahtani, the CEO and founder, Dinesh Virwani, Managing Director, and the rest of the leaders at Epic Group decided to convert all of their systems to Tukatech's TUKAcad, the garment industry's most powerful pattern making, grading, and marker making software.
The decision to switch was an easy one, as Tukatech's software has improved efficiency and saved millions of dollars for garment manufacturers all over the world. TUKAcad's 2012 edition will give Epic Group's pattern makers the ability to quickly and easily build accurate patterns, calculate and make adjustments for shrinkage, easily verify grade on the blocks, verify measurements as per requirements, make corrections and alterations to existing patterns, and better utilize fabric during the marker making and cutting processes. TUKAcad 2012 is also fully integrated with TUKA3D, Tukatech's standard setting three-dimensional garment designer and fit simulator. Epic Group has many facilities around the world, (CIPL, EGMCL, Epic Vietnam, and PGCL) and by replacing the multitude of CAD systems previously in place with TUKAcad, the company has instituted a standard software throughout their operation, improving both communication and compatibility between each unit.
"Tukatech's staff members were very cooperative during the installation process, and provided overall guidance and suggestions for our cutting room," said Virwani. "While our installation process is still continuing, we have already seen our pattern makers more than double the number of patterns they can produce in one day."
Epic Group is always a step ahead of the trends in the garment production industry, and their implementation of Tukatech's system is only the latest evidence of their forward thinking attitude. Epic Group is a leader in providing fair and ethical treatment to their employees, and in 2006, the company's flagship Bangladesh facility became the first in the nation to receive LEED certification from the U.S. Green Building Council and verified by the Green Building Certification Institute (GBCI) for CIPL Project. LEED certification is awarded to manufacturing facilities that have been developed with and facilitate ecologically friendly production practices, and Epic Group's Dhaka facility was certified in May of 2011.
"Tukatech is proud to work with Epic Group, who are not only a leader in the garment industry but proponents of advanced manufacturing and processing technology," said Tukatech Founder and CEO Ram Sareen. "Based on our experience in converting competing CAD systems to our TUKAcad software, we are confident that Epic Group will see improved efficiency, enormous savings, and an even stronger output in a few short months. We have been working with Epic Group's teams and implementing solutions for the last three months, and will continue to develop better solutions with them."
About Epic Group
Established in 1971, Epic has successfully transitioned from being a buying agent to a large multinational company with world class manufacturing facilities in Asia employing over 15,000 people
About Tukatech
Tukatech is a Los Angeles-based company that provides 2D and 3D software solutions and manufacturing equipment to garment producers. It also provides web-based product development services and PDM/PLM systems, supported by brick and mortar centers strategically located in garment hubs worldwide. With over 12,000 systems sold and about 3,500 competitive systems replaced, Tukatech is the fastest growing garment CAD/CAM company in the world. Tukatech has been ranked by Apparel Magazine
###