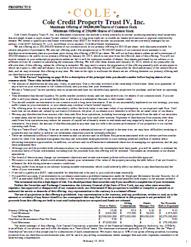 Phoenix, AZ (PRWEB) March 02, 2012
Cole Real Estate Investments (Cole) today announced the launch of its latest flagship investment offering: Cole Credit Property Trust IV, Inc. (CCPT IV), a non-listed REIT.
CCPT IV will seek to invest in commercial real estate in the United States with a primary focus on income-producing necessity retail properties that are single-tenant or multi-tenant anchored "power centers", subject to long-term triple net or double net leases with national or regional creditworthy tenants.
Up to 250 million shares of common stock are being made available in the primary offering at $10 per share. Additionally, 50 million shares of common stock, pursuant to the dividend reinvestment plan (DRIP), will be offered at $9.50 per share. Shares for individual investors will be made available through registered broker-dealers and their financial representatives.
Cole Capital Corporation, a registered broker-dealer affiliated with the sponsor, Cole Real Estate Investments, will be the dealer-manager of the offering and will offer Cole Credit Property Trust IV's shares on a best-efforts basis.
Prospectus
A full prospectus may be found on the sponsor's website, by calling the sponsor at 602.778.6000 or by contacting Cole Real Estate Investments, 2325 E. Camelback Road, Suite 1100, Phoenix, Arizona 85016.
About Cole Real Estate Investments
Founded in 1979, Cole Real Estate Investments is one of the most active acquirers of core real estate assets, managing one of the country's largest portfolios of retail properties. Cole primarily targets net-leased single-tenant and multi-tenant retail properties under long-term leases with high credit quality tenants, as well as single-tenant office and industrial properties, using a conservative investment and financing strategy. At the end of 2011, Cole-related entities owned and managed more than 1,600 properties representing approximately 59.6 million square feet of commercial real estate in 47 states with a combined acquisition cost of more than $10 billion.
Follow Cole on Google+ and Twitter @ColeRealEstate and @ColeCapital
Forward-Looking Statements
Certain statements in this press release may be considered forward-looking statements that reflect the current views of Cole Real Estate Investments and Cole's management with respect to future events. Forward-looking statements about Cole's plans, strategies and prospects are based on current information, estimates and projections; they are subject to risks and uncertainties, as well as known and unknown risks, which could cause actual results to differ materially from those projected or anticipated. Forward-looking statements are not intended to be a guarantee of any event, action, result, outcome or performance in future periods. Cole does not intend or assume any obligation to update any forward-looking statements, and the reader is cautioned not to place undue reliance on them.
###