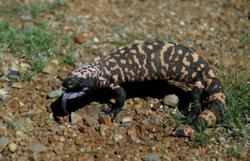 Even more exciting is providing the opportunity for thousands of people to view creatures so rare and unusual that most will never have the possibility of seeing them in person
Silver Spring, MD (PRWEB) March 08, 2012
Today, the Los Angeles Zoo will open its doors to its newest exhibit: The LAIR (Living Amphibians, Invertebrates and Reptiles). Read more about this story on the Association of Zoos and Aquariums' Explore blog.
Encompassing six diversely themed exhibits, The LAIR will be home to more than 60 unique and endangered species featuring both indoor and outdoor settings where the public can view keepers at work carrying out the animals' daily care. The LAIR will provide a foundation for the Zoo's reptile and amphibian conservation initiatives.
"It's been exciting to see the pieces fall together to create this new exhibit featuring exceptional and unique amphibians, invertebrates, and reptiles," said Los Angeles Zoo Curator of Reptiles and Amphibians, Ian Recchio. "Even more exciting is providing the opportunity for thousands of people to view creatures so rare and unusual that most will never have the possibility of seeing them in person."
The Explore blog brings you exciting, informative, and inspiring wildlife conservation features, zoo and aquarium stories, and profiles. Be sure to visit http://wildexplorer.org to get your wild animal fix!
Founded in 1924, the Association of Zoos and Aquariums is a nonprofit organization dedicated to the advancement of zoos and aquariums in the areas of conservation, education, science, and recreation. Look for the AZA logo whenever you visit a zoo or aquarium as your assurance that you are supporting a facility dedicated to providing excellent care for animals, a great experience for you, and a better future for all living things. The AZA is a leader in global wildlife conservation, and your link to helping animals in their native habitats. To learn more visit http://www.aza.org.
###