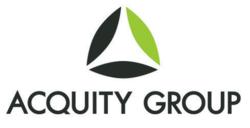 Chicago, IL (PRWEB) March 02, 2012
Acquity Group LLC, a leading global Brand eCommerce™ and digital marketing company, announced today that it has received two out of the nine awards given by hybris at its 11th annual Partner Summit held in Munich, Germany: North American Partner of the Year Award and Global Service Delivery Partner Award.
Acquity Group first announced its relationship with hybris in 2009, serving as a valued implementation partner in the U.S. and, more recently, in Canada. Throughout the strategic alliance, Acquity Group has assisted in the delivery and implementation of the hybris Multichannel Suite in North America.
"This year's summit was the culmination of a hugely successful 2011 for our Partner Program," said Patrick Finn, hybris VP of Channels for the Americas. "Since our entry into the North American market, our partnership with Acquity Group has played a major role in the overall success of hybris software. The value of hybris' robust multichannel commerce platform, combined with Acquity Group's global eCommerce implementation and support, will continue to provide our clients with exemplary multichannel commerce solutions."
Over the past few years Acquity Group has implemented hybris' multichannel commerce solutions for a number of joint customers, including Belkin, Grainger, IDEX, TireBuyer and most recently, Mine Safety Appliances.
"Working across solution engineering, professional services, and business development, the Acquity Group and hybris teams align to deliver the ultimate solution in Brand eCommerce," said Jay Dettling, Executive Vice President at Acquity Group LLC. "hybris' ability to quickly adjust to client needs, and their close insight into changing market conditions, make their robust software unique and in high demand. We're honored to receive this top award from hybris, and look forward to continued success showcasing the capabilities of their platform."
About Acquity Group:
Acquity Group is a leading global Brand eCommerce™ and digital marketing company, creating award-winning digital experiences for global brands. Our multi-disciplinary approach brings together strategy, design, and technology to create unique brand experiences that build firm customer relationships. Acquity Group works with leading brands like Adobe, AT&T, General Motors, Motorola, and Saks Fifth Avenue through offices in North America and Asia. To define a unique perspective for your business, contact Acquity Group at http://www.acquitygroup.com.
About hybris:
hybris is a leading vendor of next generation end-to-end multichannel commerce software based on a single platform including managed and hosting services. Its clear vision about the need for consistency, coordination and personalization of information across all channels and throughout all phases of the customer lifecycle has resulted in the development of an integrated, agile solution enabling businesses to communicate and sell across all channels – online and offline – in a consistent and effective way. hybris has 14 offices around the world located in the economic capitals of North/South America, Europe and Asia and supports over 380 global customers. Customers are brands from retail and manufacturing industries, including: Bobcat, Clarks, Coca Cola Beverages, Conrad, Grundfos, Hornbach, Iomega, Kaiser+Kraft, Levi´s, Lufthansa, Migros, Nespresso, Nikon, P&G, Rexel, Timberland and Toys´R´Us.
###