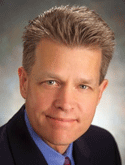 I am truly honored to be taking this position.
CLAREMONT, Calif. (PRWEB) March 01, 2012
The Drucker Institute at Claremont Graduate University announced today that Curt Pullen, executive vice president of Herman Miller and president of Herman Miller North America, has been named chairman of its Board of Advisors.
In this role, Pullen succeeds social entrepreneur and author Bob Buford, who will remain as a full and active Board member and, in addition, carry the title of chairman emeritus.
"I am truly honored to be taking this position," said Pullen, who joined the Drucker Institute Board last year. "I have great admiration for all of my fellow Board members, as well as the Institute staff. And this is a wonderful opportunity to work closely with all of them to ensure that we are meeting our mission—bettering society by helping to make individuals and organizations more effective and responsible."
Rick Wartzman, the Institute's executive director, noted that Pullen's chairmanship comes at a pivotal time. "Under Bob Buford's extraordinary leadership, we were able to move from little more than a concept on a piece of paper to a fully realized organization that is beginning to have an ever deeper impact on everyone from middle-school students to the world's leading CEOs, as we apply Peter Drucker's timeless insights to today's challenges," Wartzman said. "The next phase is all about execution and scaling up this impact. And there is no one better to lead us at this moment than Curt."
In his position at Herman Miller, Pullen leads a $1.2 billion business unit that serves as the company's flagship. In 2010, Herman Miller—which Peter Drucker served as a consultant over two decades, beginning in the 1970s—was one of only six corporations to rank in Fortune's "100 Best Companies to Work For," Fortune's "Most Admired" and Fast Company's "Fast 50″ Most Innovative. The company's Aeron chair and Eames Lounge were two of Fast Company's 15 best-designed consumer products of the 20th century.
Herman Miller is a global leader not only in design but also in operations and sustainability, for which it has received major awards and recognition from NASDAQ, Dow Jones, the Human Rights Campaign Foundation, the U.S. Environmental Protection Agency and many others. Pullen, who joined Herman Miller in 1991, was the company's CFO prior to his current job.
About the Drucker Institute
The Drucker Institute at Claremont Graduate University is a think tank and action tank whose purpose is to better society by stimulating effective management and responsible leadership. It does this, in large part, by advancing the ideas and ideals of the late Peter F. Drucker, the father of modern management.
To meet its mission, the Institute hosts collaborative forums for executives from across all sectors; works with high school and middle school students to teach them basic management principles and equip them with lifelong tools for effectiveness; produces curricular material that distills Drucker's decades of leading-edge thinking, including a management training system called the Drucker Management Path; and acts as a hub for a worldwide network of Drucker Societies: volunteer-driven organizations that are using Drucker's teachings to bring about positive change in their local communities.
In addition, the Institute maintains a digital archive of Drucker's papers and other holdings related to the fields of management and leadership; undertakes research that builds on Drucker's writings; offers an annual $100,000 prize for nonprofit innovation; applies Drucker's work to current events (through a regular online column in Bloomberg Businessweek by Institute Executive Director Rick Wartzman; a blog called the Drucker Exchange; and a monthly radio show called "Drucker on the Dial"); and hosts visiting fellows with Drucker-like insights and values.
The Institute is a close affiliate of the Peter F. Drucker and Masatoshi Ito Graduate School of Management, which is training the next generation of leaders and managers to do good while they do well. For more on the Drucker Institute, please visit: http://www.druckerinstitute.com.
About Claremont Graduate University
Founded in 1925, Claremont Graduate University is one of the top graduate schools in the United States. Our nine academic schools conduct leading-edge research and award masters and doctoral degrees in 22 disciplines. Because the world's problems are not simple or easily defined, diverse faculty and students research and study across the traditional discipline boundaries to create new and practical solutions for the major problems plaguing our world. A Southern California-based graduate school devoted entirely to graduate research and study, CGU boasts a low student-to-faculty ratio.
###