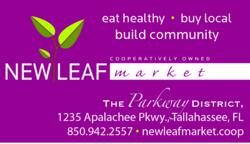 "We are so thankful for New Leaf Market's continued support of The Caring Tree's grief support camps. Their generous donations allow us to provide kids with healthy snacks that we could not otherwise afford." - Caitlin Burns, Caring Tree Counselor
(PRWEB) March 08, 2012
Part of what has made New Leaf Market, in Tallahassee, FL, so successful over the last 37 years is their dedication to the community they live in. As a company, they believe that their success is tied to the well-being of the community at large, and as a result, New Leaf Market organizes and participates in a wide variety of events throughout the year.
One of the ways New Leaf Market gives back is by working with Second Harvest of Big Bend, an organization that distributes food to the hungry. In 2011 New Leaf Market donated 10,718 pounds of food to help those less fortunate. That's more than 8,000 meals donated throughout the course of the year. In addition, during November of 2011, New Leaf Market ran a cash donation drive and offered to match any donations their customers gave, raising more than $6,000 for Second Harvest of Big Bend.
During 2011, New Leaf Market also worked with Oak Ridge Elementary School to help support their students, parents, and teachers. By organizing an exciting wine and food tasting, New Leaf Market was able to raise $1,000 for the school, which recognized their work by naming New Leaf Market as an Outstanding Partner in Excellence for the 2010-2011 school year.
The staff at New Leaf Market also donated healthy food to Camp Woe-be-Gone, a grief camp organized by The Caring Tree of Big Bend Hospice for children and teens that have experienced loss.
2011 was a great year for New Leaf Market, and 2012 is shaping up to be even better. The National Cooperative Grocers Association has made 2012 the International Year of Cooperatives, which will help draw attention to the many benefits offered by co-op grocers such as New Leaf Market. By raising awareness, co-ops will be able to better serve more customers, making it easier for the co-ops to turn around and support their communities. As Robynn Shrader, chief executive officer for the NCGA says, "The International Year of Cooperatives offers a great opportunity to call attention to the transformational role co-ops play in our economy and our lives. We're incredibly excited about the variety of activities NCGA and our member and associate food co-op grocers have planned to mark the occasion." With all of this, 2012 is looking to be an exciting and rewarding year for co-ops like New Leaf Market and the communities they serve.
About the company:
New Leaf Market, founded in 1974, is located at 1235 Apalachee Parkway in Tallahassee, Florida. They offer wholesome locally grown and produced organic foods including local produce, organic groceries, frozen and refrigerated food, and health and body care products. The beer and wine department now includes 16 feet of chilled microbrews and over 300 types of organic wines. The deli menu has been expanded and includes Panini sandwiches, rotisserie chickens, smoothies, expresso and breakfast, lunch and dinner items. A fresh meat and seafood department offers all-natural meat and fresh from Florida seafood. New Leaf Market educates the community about the products they sell. They consider it their contribution to a healthier future generation. Visit their website at http://www.newleafmarket.coop.
###