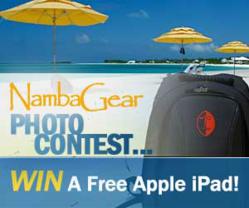 We couldn't help but notice that our customers seem to love their Namba Gear bags.
Portland, OR (PRWEB) March 05, 2012
Namba Gear, makers of high performance laptop bags & backpacks, has announced a worldwide photo contest focused on the company's products and brand. The products boast of using best quality materials and construction techniques to provide travel solutions to carry audio gear for laptop musicians and DJs. Namba Gear's products are also sought out by students and business travelers who are interested in an extra degree of security and protection for their laptops and accessories.
Namba Gear owner, Woody Moran commented, "We couldn't help but notice that our customers seem to love their Namba Gear bags. We've received hundreds of unsolicited photos from all over the world of our customers and their Namba Gear. So we thought, why not reward these guys and turn this into a contest?"
Entrants are asked to submit photos that showcase the Namba Gear product or brand on or before May 31, 2012 for consideration. To celebrate the release of the new Kucha iPad Messenger Bag, the winner will have their photograph featured on Namba Gear's website and win a free Apple iPad. Complete contest rules at http://www.nambacontest.com.
Namba Gear products are available via musical instrument & dj retailers, Amazon.com, Best Buy online, as well as through Namba Gear's online webstore.
About Namba Gear:
Namba Gear is a Portland, Oregon based bag and accessories company that designs and produces premium, high performance transport solutions for the working musician. The essence of the brand is defined by the working musicians and DJs at Namba Gear who are dedicated to creating and delivering exceptional carrying solutions that will stand up to the unique and rigorous workload of professional musicians.