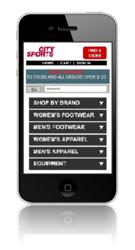 Mobile customers will be able to easily find products with detailed descriptions all in the palm of their hands, and when in doubt, they can easily find a City Sports store closest to them."
Rochester, NY (PRWEB) March 03, 2012
Consumers are increasingly reliant on their smart phones for everyday tasks. Shoppers now depend on their mobile phones for store information including directions and locations and scoring great deals. This presents retailers with a unique opportunity to engage with customers on a device they are rarely separated from. UniteU has continued its momentum in the mobile market with the launch of three new mobile optimized sites on its Mobile Express platform. Mobile Express helps specialty retailers create an experience that is sure to sell their products, engage their shoppers and enhance their brand. Each site includes features that make purchasing products or gathering information on a mobile phone an easy and enjoyable experience. Mobile friendly features include 1- click About Us page so that customers can easily learn about the store or brand, find store locations and hours of operation, while discounts and promotions showcase special offers right on the homepage of the mobile site. Filtered navigation search makes finding the right product fast and easy without having to page through multiple screens, something mobile customers have come to expect when browsing through a site.
Edwin Watts Golf mobile site optimizes the buying experience for golf equipment. Re-finable search options make selecting products like the perfect golf club simple. Shoppers can select choices such as; player-hand, shaft, brand and price range in an easy series of taps on m.edwinwattsgolf.com. "Mobile had been an initiative for us for some-time now. When we moved to UniteU it was already a part of their platform capability and implementation was very straightforward. We were able to get our mobile site live in time for the holiday shopping season, which was our goal. Currently, about ten percent of our site traffic comes from mobile devices and we didn't want any lost opportunities" says Robert Anthony, Vice President of Marketing & Direct to Consumer. "The end result is an easily navigable mobile site that enables commerce and quick checkout for our shoppers, as well as a store locator that helps customers find our locations while on the go" continues Anthony.
Garnet and Black Traditions (m.garnetandblacktraditions.com) saw mobile as an opportunity to broaden their reach. "We are a very targeted store and saw mobile as an opportunity to reach our customers at any point in time, specifically on big game days" says Chris Boomhower, Director of eCommerce. "As soon as a game starts, we have an opportunity to make sales, our customers want convenience, and our mobile-optimized site lets them purchase team merchandise at the game, while tailgating, or on their couch. If a customer sees a jersey they like while at an event, they don't have to wait to go to a store or go online when they get home to purchase it - they can find it easily on their phone. We can meet our customer's needs before they even leave the stadium. One great feature we are extremely excited to offer is that our full catalog is available via mobile. All merchandise that is available on our ecommerce site can also easily be found on a mobile device" continues Boomhower. Garnet and Black Traditions experienced surprising growth their first few days after launch of their mobile site. Just eight days after launching their mobile site, it had already accounted for ten percent of their order volume!
Another important feature of Mobile Express is the merchant's ability to control look-and-feel elements so that their branding is apparent. "Companies want to make sure their mobile site is brand consistent. It is important for the mobile site to be attractive and have a look-and-feel consistent with the main site.
"By adding m-commerce our merchants can expand their revenue opportunities with very little start-up or management cost. The Mobile site is an extension of our client's online store and leverages their existing catalog data, site configurations and integrations," says Kevin Oliver, Business Development Manager at UniteU.
City Sports (m.citysports.com) was able to take their eCommerce site design and transform it into something that makes sense for a mobile user. Using similar layout and look-and-feel, the City Sports brand really shines through on this site, and that is what customers expect to see. Always keen on catering to a customer's needs, City Sports placed a "Find a Store" button located at the top of the mobile site homepage. This directs shoppers to a series of clickable cities with their respective stores and information, accessible within 2 taps. (Potential City Sports quote) "Making this information accessible to someone on the go was extremely important and is a big part of our mission as a retailer. Our goal has always been to provide the urban athlete year-round with the latest performance goods by the most knowledgeable staff, and mobile is just another extension of that objective. Mobile customers will be able to easily find products with detailed descriptions all in the palm of their hands, and when in doubt, they can easily find a City Sports store closest to them." Says Dana Klein Director of eCommerce.
¬ About UniteU: UniteU Technologies, Inc. is a leading Software-as-a-Service provider of ecommerce solutions. Founded in 1999, UniteU is headquartered in Pittsford, NY. The company's time-tested ecommerce solutions are designed to help retailers maximize online revenues as well as reduce the costs and risks of running an ecommerce operation. The UniteU Connected Commerce platform and UniteU's infrastructure is fully PCI compliant and scales to meet the ever-changing needs of multi-channel retailers; supporting custom designs, integration, rich media, advanced promotions, multiple payment and shipping options and intuitive search and navigation capabilities. UniteU provides premier managed hosting, web analytics, in addition to e-business consulting services that drive traffic, conversions and retention. Go to http://www.uniteu.com to learn more.
Media contacts: Kevin Oliver (kevin.oliver(at)uniteu(dot)com), Amanda Martin (amanda.martin(at)uniteu(dot)com) http://www.uniteu.com