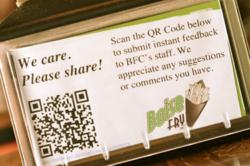 It is PageViews job to get our clients to the top of the search engines or they don't pay
Phoenix, Arizona (PRWEB) March 02, 2012
"Some businesses have an 'Aha' moment when the light just goes on," shares Terry Mickelson, Chief Digital Officer of PageViews Interactive, a Phoenix SEO company. But the reaction from new client Feedback Revolution QR was a revelation.
"They had talked about key words and SEO for some time but not too much business capital was invested in it," Mickelson commented. "Then the moment of clarity happened."
"We have been focusing on getting the media to share our message of the importance of customer feedback and how easy we make it when it hit me. The number of people looking at a business magazine at any moment looking for ways to improve their customer feedback is miniscule," said Martin Baird, Chief Feedback Officer, Feedback Revolution QR.
"The person that is doing a search for 'customer feedback' or 'customer feedback platform' is looking for us and PageViews has the task of making them find us," shared Baird.
"Some businesses see if very clearly and others take a while but when they understand that people searching the web are doing it for a reason. But when people read a "business" magazine it could be just to kill some time," Mickelson said.
This tough economy requires businesses to be more targeted than ever. "People don't have the time or the money to waste on advertising that reaches thousands of people that have no interest in buying a specific product or service," remarked Mickelson.
Baird stated, "This was a real breakthrough for us. The internet is now a top priority for our marketing team to get the word out to people searching for services like ours!"
About PageViews Interactive, LLC.
PageViews Interactive, LLC. Is a metro Phoenix SEO company that delivers performance results to it's clients. PageViews Interactive achieves top rankings for the keywords of the client's choice before they have to pay.
About Feedback Revolution QR
Feedback Revolution QR is a free http://www.feedbackrevolutionqr.com customer feedback platform using smartphone technology to give businesses a leg up when it comes to collecting and analyzing real time customer feedback. By making it fast and easy customers share their feedback directly with the business. This customer relationship management tool helps our clients grow in these tough economic times.
###