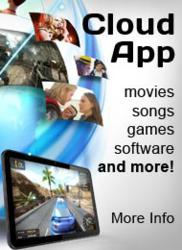 Savtira's digital media client is a great digital entertainment software designed with the consumer in mind," said Timothy M. Roberts
Tampa, FL (PRWEB) March 01, 2012
Savtira Corporation today announced the release of its digital media software for Windows, Mac, Linux, iOS and Android that is custom-branded for Savtira partner eStores. Savtira's software client is the best and easiest to use digital entertainment experience packed with desirable features, such as cloud storage with a digital locker, download manager, store, and digital media player.
Savtira builds Cloud Commerce eStores that are custom-branded for clients with a built-in catalog of up to 20 million digital and physical products. The client is seamlessly integrated with Savtira's partner eStore. Customers who purchase digital products from a Savtira eStore are able to purchase, download, store, organize and play back music, movies, TV shows, games, software, eBooks, or audiobooks within the application.
The Savtira client functions as a high definition digital media player, allowing consumers to play back their digital entertainment. In the next 30 days, a built-in radio player with 7,000 user-customized channels is scheduled to be available within the application. Future development plans include Internet TV and on-demand application streaming.
"Savtira's digital media client is a great digital entertainment software designed with the consumer in mind," said Timothy M. Roberts, President and CEO of Savtira Corporation. "It has every bell and whistle a consumer could ask for. For example, users can view and chat with their Facebook friends from within the application, and they can even organize their content into playlists and share with their network."
The Savtira digital media client includes:

Custom-branding for eStore clients
Built-in eStore
Download manager
Web browser
Digital Media player
Integrated Facebook friends list
Create and share playlists
Upload and store digital media in the cloud with a digital locker
Download the Client Application from: https://s3cupdater.savtira.net/SavtiraInstall/SavtiraSetup.exe
About Savtira
Savtira is in the business of digital distribution with a Software-as-a-Service (SaaS) ecommerce platform that provides a turnkey system for the distribution, marketing, merchandising, and sale of digital media and physical goods in a single store, and in a single, unified shopping cart. Savtira-powered eStores are designed to meet the specific needs of retail partners and are custom-branded for each one. To facilitate the delivery of digital content, Savtira is building a new-generation, carrier-class Entertainment Distribution Network (EDN), streaming all digital media from the cloud, with a feature set that eclipses anything on the market. The company is headquartered in Tampa, Fla., and has an office location in the United Kingdom. For more information on Savtira, visit: http://www.savtira.com or call 813.402.0123. Follow us on Twitter at: http://www.twitter.com/savtira.
Savtira is a registered trademark. All other product and service names mentioned are the trademarks of their respective companies.
Media Contact
Savtira Corporation
Direct: (813) 440-3841
Fax: (813) 440-3800
http://www.Savtira.com
# # #