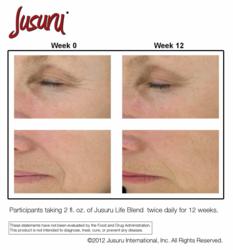 Regular supplementation with Jusuru Life Blend showed an increase in skin collagen, blood microcirculation and reduction in wrinkles, fine lines, and skin dryness/scaling.
Anaheim, CA (PRWEB) March 01, 2012
Jusuru International Inc. recently released a 'white paper' outlining the results of a human skin study on Jusuru Life Blend™'s (Jusuru®) effects on various aging signs in facial skin. Daily supplementation with Jusuru showed an increase in skin collagen, blood microcirculation and reduction in wrinkles, fine lines, and skin dryness/scaling.
Jusuru is a dietary supplement comprised of a proprietary liquid formulation designed to promote healthy aging. Jusuru contains three major ingredients which include multi-patented BioCell Collagen TF®, resveratrol, and thirteen fruits that work synergistically to promote healthy aging via more active joints and youthful skin. The growing body of scientific evidence that supports these ingredients is immense, and with this recent study Jusuru adds even more substantiation, especially in that Jusuru is a finished product comprised of three proven active ingredients.
During 2011, Jusuru International, Inc. performed a human skin study on women in their thirties to fifties who had undergone both natural- and photo-aging processes. The study, employing both qualitative and quantitative bioinstrumentation techniques, showed that upon taking 4 fl. oz. of Jusuru daily for 12 weeks, the subjects (N=25) experienced almost complete reduction of dryness/scaling as well as a substantial decrease in wrinkles (-6.6%) and deep lines (-10.3%) on their faces. Under the skin, Jusuru caused a significant increase in collagen (+6%) in the dermis and a significant improvement in blood microcirculation (+14.2%). Melanin content also decreased (-4.2%). As a result, the majority of the study participants experienced improvement in hydration/scaling (80%), skin texture (88%), and elasticity/firmness (52%) as well as reduction of blotchiness/redness (52%).
The positive outcome of this study is considered highly significant and beneficial to the nascent nutricosmetic industry because it revealed multi-faceted 'beauty-from-within' physiological mechanisms elicited by daily supplementation with Jusuru. The results of this study provide evidence that the nutricosmetic approach does work to influence the metabolism of the extracellular matrix in the skin dermis. The daily intake of Jusuru, which increases collagen content and microcirculation, could counteract both natural and photoaging processes likely by remodeling the ECM network, enhancing microvasculature health, and re-stimulating dermal fibroblasts, the functions of which are essential for the maintenance of youthful skin. The US public has been skeptical about nutricosmetic effects of dietary ingredients and the results of this study imply that a key event in skin aging, the degradation and disorganization of collagen fibrils, could be tackled by ingestion of appropriate dietary supplements such as Jusuru.
Earlier this year, Asma Ishaq, president of Jusuru International, was invited to and presented at the Beauty From Within Conference in Paris, France, as an exemplary US brand achieving success as a nutritional beauty product. Ishaq stated, "The results of this study are exciting and affirming; we've long known about the extraordinary benefits that Jusuru Life Blend delivers to both skin and joints. This is just one of the studies demonstrating its efficacy, and we will continue with additional research. We're pleased to be leading the nutricosmetics industry's emerging growth with scientific substantiation."
Jusuru Life Blend, in addition to promoting skin health, also improves joint health. The active components of its multi-patented BioCell Collagen TF®, which include a naturally occurring matrix of hydrolyzed collagen type II, depolymerized chondroitin sulfate, and low molecular weight hyaluronic acid, contribute to increased mobility and activity. BioCell Collagen® has been the subject of multiple double-blind, placebo-controlled human clinical trials demonstrating efficacy on joint health and skin beauty. The company also introduced a pet-friendly version earlier this month called Jusuru Pet Blend™.
About Jusuru Life Blend™:
Jusuru Life Blend™ is an innovative healthy-aging nutritional supplement that not only promotes healthy joints and more youthful-looking skin, but strengthens the weakened antioxidant and anti-inflammatory defense system in the body. Jusuru Life Blend™ is unique in that it exclusively contains a liquid form of BioCell Collagen®, a naturally occurring matrix of hydrolyzed collagen, chondroitin sulfate and hyaluronic acid, which are reduced to highly-bioavailable, very low molecular weight forms due to its patented hydrolysis process.
About Jusuru International, Inc.:
Jusuru International, Inc., headquartered in Anaheim, California, is committed to delivering the most advanced nutritional supplements made with the highest quality ingredients and meticulous care. Jusuru's executive team supports the company's rapidly expanding network of independent representatives with decades of experience in health, science and business.For more information on Jusuru Life Blend™, please contact Jusuru International, Inc. at (888) 862-3968 or visit http://www.jusuru.com.
# # #