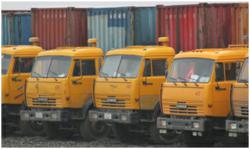 ANHAM has an incomparable history of success in providing logistical support in Afghanistan
Dubai, UAE (PRWEB) March 02, 2012
ANHAM FZCO, a leading contracting firm that provides services around the world, announced that it is an awardee of the National Afghan Trucking (NAT) Contract issued by the Bagram Regional Contracting Center to provide transportation of U.S. Government cargo in Afghanistan. The contract has a maximum value of $983,500,000.
Under the contract, ANHAM will provide personnel, equipment, tools, and supervision to carry out U.S. Government cargo transport throughout the operating bases and distribution sites across Afghanistan. ANHAM will utilize a vast fleet of selected trucks, containers, and other material handling equipment to support the cargo at different stages.
"We are honored to be an awardee of this contract and look forward to continuing our successful track record of executing projects on time and on budget," said Mr. Abul Huda Farouki, CEO and Chairman of ANHAM FZCO.
Critical to the Afghanistan region, full-line logistics services will be provided by ANHAM while ensuring the integrity and safety of the U.S. cargo throughout the transport.
"ANHAM has an incomparable history of success in providing logistical support in Afghanistan, and we will leverage this experience and expertise to provide U.S. Government cargo with the highest level of services," said Mr. Farouki.
About ANHAM FZCO
ANHAM FZCO (http://www.anham.com) is a leading contracting firm working throughout the Middle East and North Africa ("MENA"), Central Asia, and Europe. With a century's worth of experience between its principal founding companies, ANHAM is able to efficiently, effectively, and affordably deliver products and services throughout the world. Headquartered in Dubai, UAE, ANHAM has international offices that specialize in providing local support and services to its initiatives, projects, and investments across diverse regions of the globe.
# # #