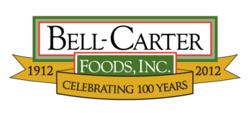 Corning, CA (PRWEB) March 05, 2012
The largest table olive producer in the U.S., Bell-Carter Foods, parent company of number one selling olive brand Lindsay Olives, recently announced several new sustainability projects. Focused on reducing its carbon footprint, these three new projects will help Bell-Carter Foods significantly decrease its energy consumption at its company headquarters and production plant.
"Bell-Carter believes that sustainability plays a significant role in the well-being of our community and our customers," said Ron Kerr, director of engineering for Bell-Carter Foods. "It's important to us to do what's right for our environment, and these projects allow us to produce our olives in a way that improves the community where we live and work."
Bell-Carter Foods most recently unveiled a new aeration system at its waste water treatment facility in Corning, Calif., which earned accolades from the community and a $114,475 rebate check from PG&E. As a result of this energy-efficient system, Bell-Carter Foods is estimated to reduce electrical consumption by 2,743,404 KWH, and reduce the cost of treating the waste water by $329,208 annually. Overall it will reduce the company's carbon footprint by 788 tons, and the energy saved is the equivalent of what is needed to power 257 homes.
The olive company will soon complete work on an evaporative cooler system that is intended to reclaim water after it is used in the cooking process. The water will then be reused to fulfill other tasks requiring water at the production plant. Up to 50 million gallons of water per year will be saved, which is equivalent to the water use of more than 800 Americans.
In addition, Bell-Carter Foods is working on using solar energy to power its receiving building, which will be an important effort in reducing energy consumption and improving energy efficiency on location at the Bell-Carter Foods plant.
Bell-Carter Foods, which is currently celebrating its 100th year in business, believes its continued dedication to sustainability and environmental stewardship improves the community in which its employees and customers live and work. For more information on Bell-Carter Foods, visit BellCarter.com.
# # #
About Bell-Carter Foods
Founded in 1912, Bell-Carter Foods is the largest table olive producer in the U.S. and the second largest in the world. It produces olives for both private labels and America's number one selling olive brand, Lindsay Olives. Bell-Carter Foods is dedicated to producing quality products from a quality company with family values, a commitment to sustainability and innovation.