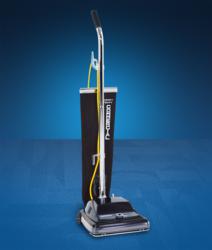 "When using the CRI-SOA-rated ReliaVac, our customers are guaranteed a carpet care solution that helps protect their carpet investment, enhancing their facility's appearance and satisfying carpet warranty requirements."
Plymouth, MN—
(PRWEB) March 02, 2012 -- Nilfisk-Advance announces its ReliaVac® Single-Motor Upright Vacuums, sold under the Advance and Clarke brands, have received the Carpet and Rug Institute Seal of Approval (CRI-SOA) certification. CRI-SOA certification identifies effective carpet cleaning solutions that protect and maintain a facility's carpet life. It also validates performance in soil removal, indoor air quality protection and reduced carpet wear. Carpet care equipment that has received CRI-SOA meet the equipment requirements for Leadership in Energy and Environmental Design (LEED) certification from the USGBC and the Green Seal Standard for Commercial and Institutional Cleaning Services (GS-42).
"We are proud to announce this certification, as it results in a direct added value to our customers," said Jill Kohls, Healthcare and Hospitality Vertical Market Manager at Nilfisk-Advance. "Now, when using the CRI-SOA-rated ReliaVac, our customers are guaranteed a carpet care solution that helps protect their carpet investment, enhancing their facility's appearance and satisfying carpet warranty requirements."
In addition to the industry-valued CRI Seal of Approval, ReliaVac is recognized as the vacuum with the green lifetime fan. The exclusive green impellor fan is designed from a proprietary, ultra-durable plastic, offering a lifetime guarantee if it breaks. Combined, these benefits provide operators with maximum cleaning performance, while ensuring a healthy and sustainable facility.
For more information about the ReliaVac, call 800-850-5559, or visit http://www.advance-us.com.
About Nilfisk-Advance
Nilfisk-Advance is one of the world's leading manufacturers and suppliers of professional cleaning equipment. With global company headquarters in Denmark, the company has developed professional cleaning equipment for over 100 years. Nilfisk-Advance has production facilities in North America, South America, Europe and China, has an extensive network of sales entities in 43 countries and is represented in more than 100 countries around the world. The company currently has over 5,000 employees worldwide, with global sales of over $1 billion USD in 2010. Its Americas headquarters are based in Plymouth, Minnesota.
###