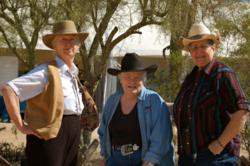 "Any Cowgirl knows, it's not the size of your horse; it's how you ride it".
Scottsdale, Arizona (PRWEB) March 02, 2012
The Arizona Fine Art EXPO love their cowgirls, listening to their stories of hard work growing up on farms and ranches as women and witnessing the brilliant historical tales they share on canvas.The Russians started International Women's Day in 1909, and they are still the premier celebrators of the March 8th holiday. Around the world, this event is a way to honor women's contributions to history.
These women have lived and experienced what is seen on their canvases whether it be ranching, riden', roping or rodeo 'in'. Most historians never wrote the true facts about the women that cowboyed on ranches throughout the old West during the early 1800s. These women took on ranching chores as men and when the men felt the women were deserving of their spurs, only then were women accepted as cowboy equals. Early on, cowgirls actually wore men's clothing, because it was practical, durable and all that was available. The spectacularly embellished western wear of the 1930s-1950s came about because of the movie stars plus it made prettier photographs. Few early ranch women wore fringed suede divided skirts and embroidered shirts while working. Hollywood romanticized version of the American West is more popular than the true history of the women they represented of the Wild West.
Loretta Musgrave grew up on a country ranch and farm tucked in the foothills of South Mountain in Arizona. Musgrave's primary job over many years was always caring for the sick and injured animals, a project that provided her with many quiet moments and quiet models as she began drawing. Musgrave milked cows, took care of donkeys, goats, chickens, raised the calves, put up fencing, worked alongside the tractors loading feed, irrigated, butchered beef and so much more. When it came to delivering her sixth child, she even did this by herself. Loretta Musgrave is a true hard working cowgirl. At age seven she won a state art competition which included a small amount of money. She was so delighted that this encouraged her to begin drawing for the local ranchers for spending money. They demanded perfection; hard taskmasters but perfect training for the young artist. When first meeting Musgrave last year, Judi Combs, CEO of the Arizona Fine Art EXPO, got a kick out of Musgrave when she made an innocent statement "I am not too sure about this city living". After all these years Musgrave recently moved closer into the city of Phoenix, Arizona. Willi Waltrip was raised in Tulsa, Oklahoma on a farm. Waltrip found herself continually begging for a horse or being bribed with horseback riding in exchange for taking piano lessons. Waltrip didn't receive her first horse until she was out of college. Waltrip's love affair began at an early age with incessantly sketching horses with crayons.
Waltrip's fascination with horses led her to the rodeo scene. She began barrel racing which lead her to trick riding. Waltrip loved the independence of standing on her bareback horse as it galloped throughout the arena. The excitement of vaulting,
dragging along side or behind her horse made her a true daredevil. In fact, on a dare she once rode a bucking bronco. She did so well, no one could figure how to get her off the horse safely.
She supported her horse passion with a day time job as artist for Hallmark Cards and then as owner of her own commercial art studio. Waltrip's need to support her equestrian sport inspired her to continue with her art career which had taken a back seat to the horses until she retired. Now she paints horses again, not with crayons but brushes.
Linda Herst grew up on a ranch working with the real Arizona cowboys. She worked hard every day with the familiar ranching chores, caring for and raising calves. Herst herded cattle on horseback, trained horses, traveled many trail rides and round ups throughout the Southwest side by side with the great American cowboys. Herst raised horses and cattle on her ranch in Gilbert, Arizona.
Linda photographed and sketched working cowboys on ranches and round-ups and to this day incorporates these images into her paintings.
Herst began raising Appaloosa horses, barrel racing and rodeoin. She rode her horse Ambush in parades, dressed as the Arizona woman known as Cowboy Mollie. She rode with the Wild Women of the West until she discovered they were not wild enough for her. Herst began performing first person reenactments for the Arizona Historical Society. She preferred tough wild women from the 1890s, who wore men's pants, wore guns, cussed and smoked cigars. She portrayed the stagecoach robber Pearl Hart at the historic Yuma Territorial Prison. She was filmed in a couple of westerns as a dance hall girl and extras in the town movies plus dancing a can-can with Jane Russell on stage.
Herst attended the New York Art Student's League and taught art, music and drama for twenty-five years. She signs her paintings L.C. Herst. She's attended Indian Pow Wow's, understands the authenticity of traditionalism Native American life and additionally taught on the Indian Reservations.
Meet these three fine ladies at the Arizona Fine Art EXPO. They can be found working in their studios spreading history all over their canvas. The EXPO is celebrating "International Women Day" by giving all women Free Admission, Thursday, March 8th. Join us!
###