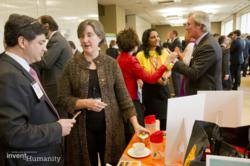 The Microfinance Credits will provide immediate and lasting impact in the lives of women and girls by supporting Solar Sister's solar technology enterprise programs.
Chicago, IL (PRWEB) March 02, 2012
The Center for Applied Innovation, a Chicago based 501(C)3 non-profit organization, announced today that $10,500 in funding was allocated during the first-ever Invent for Humanity™ Technology Transfer Exchange Fair event in Geneva, Switzerland on January 23-25, 2012.
Invent for Humanity is a community, a marketplace and an event focused on harnessing technology for social good. Hosted by the Licensing Executives Society International (LESI) Global Technology Impact Forum, the first Invent for Humanity event supported enterprise-creation campaigns all across the globe.
This effort resulted in the presentation of fourteen campaigns during the event, which were developed in partnership with Kopernik, Solar Sister, Q Drum, California State University, Los Angeles, and Global Research and Innovation Technology (GRIT).
The "marketplace" aspect of the event enabled the campaigns to receive funding from the Invent for Humanity fund onsite through the allocation of microfinance credits (MFCs) by event attendees.
Each of the 150+ attendees was given MFCs that they could distribute during the two-day event. Attendees interacted with campaign representatives to learn more about the respective details of each campaign, in order to better inform themselves as to where their MFCs would have the most impact.
Once all of the MFCs in circulation were allocated, the Center for Applied Innovation was able to calculate the total amount of real money each MFC was worth, allowing them to assign a monetary value to each credit slip and determine the dollar amount that each campaign had received.
"MFCs allow financial contribution and subject matter expert participation in the market process," said James E. Malackowski, LESI President. "As the market matures, it is expected that MFC allocation will extend 360 degrees to include needs organizations, ensuring that their unique insight regarding what is mostly likely to succeed will be reflected in overall funding allocations."
The Center for Applied Innovation is pleased to announce the following funding results of the first-ever Invent for Humanity Technology Transfer Exchange Fair:
1. $1,961.45 to the Solar Sister Girl Empowerment Program, which provides school-aged girls in Uganda with science, technology, engineering, business and math education. (View Image: Katherine Lucey, Solar Sister Founder, accepts MFCs from LESI's Alan Lewis)
2. $1,259.04 to Kopernik's Take a Load Off campaign, which will provide 90 women and their families in the Matungu district of Kenya (over 500 individuals) with the ability to transport water using Q Drums. (View Image: Alison Kuhlmann receives MFCs for Q Drum and LESI members make use of the Q Drum)
3. $755.42 to Kopernik's Make Some Noise for Children in Vietnam campaign, which benefits more than 300 children who suffer from hearing loss by employing solar-powered hearing aid technology combined with the support of teacher training.
4. $609.64 to GRIT's Manufacturing Mobility in Romania campaign, which seeks to deploy the Leveraged Freedom Chair technology in Transylvania. (View Image: GRIT founder Tish Scolnik showcasing the Leveraged Freedom Chair)
5. $198.80 to the Kopernik When a Child is Born campaign, which provides midwives in Timor-Leste with labor and delivery equipment in the form of Maternova Obstetrics kits.
6. $159.04 to the Kopernik What's Cookin' campaign, which enables Indonesia women to sell biomass stoves on consignment. (View Image: Kopernik Co-Founder Ewa Wojkowska discussing this campaign with LESI member Paul Germeraad)
7. $145.78 to Kopernik's Check-Out a Light campaign, which benefits rural Peruvian children with no income by enabling them to check out solar lanterns from their school libraries, allowing them to study at night.
8. $132.53 to Kopernik's Drinks Are On Me campaign, that works with an existing network of women's groups across Indonesia – PEKKA – in order to provide 250 women with training and water filters to sell on consignment.
9. $119.28 to the Kopernik Give Safe Drinking Water to Rural Nigerians campaign, which, utilizing the Tulip Water Filter, provides more than 500 people with safe, clean water.
10. $79.52 to the Kopernik Smarter Cooking for Indian Women campaign, which impacts 150 tribal households of Bairagarh and Shankarpura, India by allowing them to harness efficient biomass stoves. (View Image: Ewa Wojkowska, Co-founder of Kopernik, receives MFCs for a clean cookstove campaign)
11. $53.01 to the Kopernik What Knowing Can Do campaign, which allows for expansion of computer resources and training in the Rachuonyo district of Kenya.
12. $26.51 to Kopernik's Bring Clean, Bright Light to Atauro campaign, which enables fishermen in Timor-Leste to purchase sustainable solar lanterns for night fishing, rendering the disposal of used batteries and flashlights unnecessary.
In addition to the twelve campaigns receiving a total of $5,500 in funding above, the Solar Sister Business in a Bag campaign was fully funded onsite in the amount of $5,000 by Ocean Tomo, one of the 2012 event sponsors.
This campaign has the ability to impact more than 20,000 Ugandan people with access to clean energy technology through establishing ten female entrepreneurs. These "sisters" will receive a complete "business in a bag", enabling them to create sustainable business ventures in their local communities by selling solar lights, lanterns and mobile phone chargers. (View Image: Solar Sister founder, Katherine Lucey, discussing Nokero solar technology with LESI members)
"It was so exciting to be part of the first Invent for Humanity Technology Fair. It was a lively approach to exchanging information about new technologies that benefit humanity and an interactive way to build support for the innovations," said Katherine Lucey, Founder and CEO of Solar Sister. "The Microfinance Credits will provide immediate and lasting impact in the lives of women and girls by supporting Solar Sister's solar technology enterprise programs."
The fourteenth campaign featured at Invent for Humanity – the Q Drum Manufacturing Campaign – is an ongoing project still in early development stages, and will be eligible for funding at future events. (View Image: LES member, Paul Germeraad, kicks the proverbial wheels of this water transportation prototype developed by Thomas Hurst from Cal State LA)
To learn more about or contribute to Invent for Humanity Campaigns, visit InventforHumanity.org. View more images from Invent for Humanity at http://www.flickr.com/InventforHumanity
About the Invent for Humanity™ Technology Transfer Exchange Fair
Organized by the Center for Applied Innovation, the Invent for Humanity Technology Transfer Exchange Fair will take place in tandem with the LESI Global Technology Impact Forum 2012 in Geneva, Switzerland, on January 24-25, 2012. Invent for Humanity showcases field-ready sustainable innovations – Appropriate Technologies – and leverages the experience of professionals in IP and licensing in order to effectively match and structure the transfer of such technology to meet the needs of organizations working to benefit developing economies. The two day Invent for Humanity Technology Transfer Exchange Fair event is open to the media and the public.
About the Center for Applied Innovation (CAI)
The Center for Applied Innovation is an Illinois non-profit corporation created to manage education, public policy outreach and related economic activity around Applied Technology and intellectual property (IP) rights in the State of Illinois and around the world. Applied Technology is defined as proven IP or technology that is in use or was developed for a specific purpose and protected by patents and/or patent applications (as well as other forms of intellectual property such as trademarks and copyrights). CAI will examine the current environment and identify opportunities for IP to be utilized both in the State of Illinois and across the world to stimulate economic growth. The Center will create a critical mass of available resources and focus on redeploying existing IP, but will also encourage continued technology development.
###