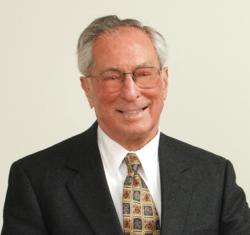 We will always admire his innovative thinking… His vision spawned an entire interior packaging industry and kept FP at the forefront of the ever-changing packaging landscape
Redwood City, CA (PRWEB) March 02, 2012
FP International, a global leader in providing interior packaging solutions systems, announced today the retirement of Arthur Graham as FP International's Board Chairman and CEO effective February 29, 2012. FP is pleased that Mr. Graham will continue to assist the Company as a consultant with the title of Founder and CEO Emeritus.
Joe Nezwek will continue to lead FP as its President, while Board member Richard Messina, a management consultant and Mr. Graham's son-in-law, will become FP's Chairman. Chris Mottern, a long-term member of the Board and the former CEO of Peet's Coffee, will become Lead Director.
Mr. Graham has led and directed FP since 1967, when he first conceived the ingenious idea and design of a flowable interior packaging material. Speaking of Mr. Graham, Joe Nezwek stated, "We will always admire his innovative thinking, his persistence in solving great engineering challenges, and his ceaseless commitment to the Company. His vision spawned an entire interior packaging industry and kept FP at the forefront of the ever-changing packaging landscape."
Under Mr. Graham's leadership, the Company has been repeatedly recognized for its product innovation and its sensitivity to environmental sustainability. Mr. Graham's direction and vision allowed FP to become a world leader in the packaging industry, well-recognized for its new and exquisite solutions. According to new Board Chairman Richard Messina, "Mr. Graham has rightly become a legend in his own time, and we have been honored to work alongside him."
As directed by Mr. Graham, the Company began a period of leadership transition several years ago through the recruitment of experienced board members and the addition of several new members of the executive team. The Board of Directors will continue to guide the Company in this new era for FP, building upon the foundation that Mr. Graham developed. His family will continue to be closely involved in the Company. In addition to family member Richard Messina's on-going position on the Board and his new position as Chairman, Mr. Graham's daughter Janet Graham will continue as a Board member. Richard Messina stated, "Consistent with long-standing plans, the Board of Directors will guide the Company through what we anticipate will be a smooth and seamless transition. The Board has complete confidence in Joe Nezwek and the senior management team. Together, the Board, the senior management team, and the FP employees share the commitment and the capability that will enable FP to grow and prosper."
About FP International
Headquartered in Redwood City, California, FP International is an award-winning manufacturer of innovative protective packaging products and systems. The Company's products include packaging-made-on-site (PMOS), air cushions, and Kraft paper cushioning, as well as ready-to-use products, including polyethylene foam, loosefill made of 100% recycled polystyrene, bubble, and Kraft/bubble mailers. The Company also designs and installs dispensing/storage systems for air cushions and loosefill. FP International has eight manufacturing facilities in the U.S. and Europe and sells its products worldwide. For more information, visit http://www.fpintl.com and http://www.minipakr.com, or call 800.866.9946 or 650.261.5300.
###