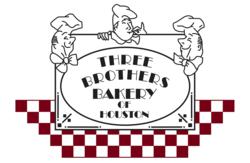 "Based on our daily sales, I believe the Hamantaschen will take on a life similar to the bagel or ruggelach. In 2011 we sold approximately 35,000, " according to Bobby Jucker, 5th Generation Baker and co-owner of Three Brothers Bakery
Houston, Texas (PRWEB) March 02, 2012
Could Hamantaschen be going mainstream? According to Bobby Jucker, 5th generation baker and co-owner of Three Brothers Bakery, "Based on our daily sales, I believe the Hamantaschen will take on a life similar to the bagel or ruggelach. In 2011 we sold approximately 35,000." Hamantaschen, a triangle shaped cookie filled with usually poppy, prune or apricot, and sold in most places only during the Jewish holiday of Purim are found daily at Three Brothers Bakery in none other than Houston, Texas.
This delectable delight named Hamantaschen, literally meaning Haman's Pockets, but also called Haman's Ears, or French, Napoleon or Patriot Hats has been sold daily for about 15 years at Three Brothers Bakery in Houston, Texas. "The daily production began when a non-Jewish customer, Mrs. Rodriguez, would call every two weeks for two or three dozen hamantaschen, so we'd make extra, and they were selling, so we started making them daily," explained Jucker. But now Jucker is seeing them emerge as Christmas gifts and even eaten in coffee houses.
Three Brothers Bakery's triangular shaped pockets are filled with the traditional poppyseed, prune or apricot and also one will find cherry, raspberry, blueberry, lemon, cheese, date, peach, strawberry, or chocolate filled. The top three are poppy, chocolate and apricot fillings. During Purim the Hamantaschen are made either with yeast dough or a secret cookie dough recipe, which is kept securely in a safe. The same cookie dough can also be found at the bottom of all their award winning pies, for it also serves as their crust.
When asked if most of his clientele was Jewish, Jucker replied, "90% + of our customer base is not Jewish, but as we now serve our fourth generation of customer, they have come to enjoy the cookie and hence their children like them, so the demand keeps growing."
They ship well, so Three Brothers Bakery ranks them in their top 10 best selling baked goods online. Jucker ended by saying, "Thank you Mrs. Rodriguez for creating a bakery trend we hope will be passed on from generation to generation."
About Three Brothers Bakery
Three Brothers Bakery has a long and fascinating history, with its origins in Chrzanow, Poland dating back to 1825. Later, World War II changed the business and lives of the Juckers forever, when members of the family were imprisoned in Nazi concentration camps.
The original Three Brothers Bakery at 4036 S. Braeswood Blvd and owned by Bobby, Janice and Estelle Jucker, continues to operate a full-service, scratch bakery making savory Eastern European style breads and pastries, cookies, a full line of specialty dessert cakes and pies, as well as custom birthday, special occasion, wedding and grooms' cakes with many products dairy-free - perfect for those who are lactose intolerant.
The Three Brothers Bakery pecan pie was named "…the best mail order pecan pie America has to offer…" by Country Living magazine and most recently Bobby Jucker competed in Food Network Challenge, seen on Food Network's Outrageous Food – highlighting their Pumpecapple Piecake, named Pastry Chef of the Year at The Houston Culinary Awards and awarded in January The Knot Best of Weddings 2012 Pick for the 3rd year in a row. Three Brothers Bakery is a certified Woman Owned Business through WBENC and a State of Texas HUB.
LOCATIONS:
THREE BROTHERS BAKERY LOCATIONS
BRAESWOOD
4036 S. Braeswood Blvd.
Houston, TX 77025
713.666.CAKE (2253)
Orders(at)3brothersbakery(dot)com
SHOPS AT MEMORIAL CITY
12393 Kingsride Lane
Houston, TX 77024
713.464.CAKE (2253)
memorial(at)3brothersbakery(dot)com
# # #