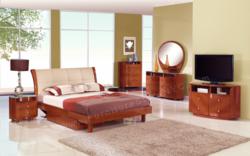 everyday we save more
New York, NY (PRWEB) March 05, 2012
The new items in the collection of modern furniture available through the website are of premium quality, and yet they are affordable and budget-friendly. The designs of the furniture are varied, with a wide variation on colors, materials, and form. In keeping with needs for the modern abode—whether it is an apartment, a condominium, house, or a mansion, of whatever size—many items now available in Furniture Store NYC's inventory are multi-functional even as they are aesthetically beautiful.
The collection of modern furniture that Furniture Store NYC is carrying include hundreds of high-quality items from a variety of respected furniture makers, including ESF Furniture, Global Furniture, Vig Furniture, and Beverly Hills. The online site has hundreds of selections for modern pieces for living rooms, and dining rooms, in sets or as stand-alone furniture.
Furniture Store NYC is confident that homemakers, interior designers, and furniture lovers will find the perfect piece of modern furniture through their website. The items they carry had always generated positive feedback from satisfied customers. A woman from Green Brook, New Jersey exclaimed of her purchase: "[S]o very unique. I love the color and the style is so classy. The construction is solid." Another said, "The furniture is outstanding, they beat any high end furniture store."
On top of the quality of its merchandise, Furniture Store NYC also provides its customers with the best service for its customers. Its online presence is easy to access 24/7, with its website providing user-friendly tools for item browsing, placement of orders, and payment (through secure channels like PayPal, Visa, and MasterCard). Product warranties for all items are all reliable and in order.
Furniture Store NYC also promises on-schedule deliveries of all purchases through a team of highly professional delivery crew that ensures the merchandise will be delivered on the customer's doorstep in the best condition possible. It services customers from New York, New Jersey, Connecticut, Delaware, Maryland, Massachusetts, New Hampshire, Pennsylvania, Rhode Island, Washington DC, Vermont, and Virginia. Orders are shipped free of cost to New York and New Jersey.
It also has a great live support mechanism manned by friendly and competent staff who will assist and guide customers while through the process of finding the perfect furniture for them. It also has a good after-purchase customer service center that provides assistance for all concerns regarding the furniture.
About Furniture Store NYC. It is a one-stop online shopping site for quality home and office furnishings and furniture. It ensures quality, transparency, and safety of orders as well as customers' personal information.
Their complete collection of items can be viewed at http://www.FurnitureStoreNYC.com. Reach their friendly customer care representatives through toll-free number 866-647-8070. Their office at 211 River Road, Clifton, New Jersey. Send them a fax message at 973-928-2110 or through the following corporate email addresses: admin(at)furniturestorenyc(dot)com.