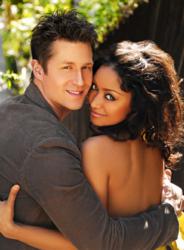 Too many online daters are looking specifically for one night stands.
Los Angeles, CA (PRWEB) March 06, 2012
With an estimated one in five new relationships starting online these days, MarryMeAlready.com offers users the chance to narrow their search solely to other singles who are like-minded when it comes to finding a marriage partner or serious relationship. MarryMeAlready.com is a site run not by a corporate conglomerate, but by a creative married couple. MarryMeAlready.com CEO Candy Tolentino turned down an astounding seven marriage proposals before finding her perfect partner, husband and business partner Josh Black.
When it comes to conventional online dating, separating recreational daters from those sincerely looking for love and meaningful relationships can be tricky. "Let's be honest, meeting someone for the first time is fun," says Tolentino, a relationship expert. "The problem is that many daters want to keep that high, so they never allow themselves to get too serious, jumping from person to person online." Tolentino says too many online daters are also looking specifically for one night stands or casual relationships, which can be very frustrating for someone looking for a real relationship and not wanting to waste time. "It happened to me when I was dating online, and I really wanted to do something about it," she says. MarryMeAlready.com is providing a solution to the inherently difficulty task of determining true dating intent. It is a site just for people who are serious about finding meaningful and lasting relationships.
MarryMeAlready.com offers features not found on other websites, like member spotlights where a specific member's story can be shared and highlighted. The site also offers video links so members can view other members and make a choice on a potential relationship partner. Another interesting aspect that sets MarryMeAlready.com apart is that users can have personal blogs within the site as well.
What makes MarryMeAlready.com different?
http://www.marrymealready.com/why_we_are_different.html
MarryMeAlready.com is currently a 100% FREE dating site - the only such dating site of its kind. "Even when we transition to a paid site in the future, our fees will be much more affordable compared to other popular sites who charge between $39.95 and $59.95 per month," says Tolentino. "Our goal is to create quality relationships, and in this economy, we know that we need to be sensitive to our customer's wallets too." Their monthly fee is going to start in the range of $10-15 per month." Tolentino says at that time a percentage of those fees will be going to multiple charities as well.