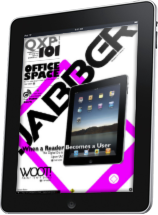 Denver, CO (PRWEB) March 02, 2012
Quark announced today the availability of the second issue of Jabber, the iPad app for designers and creative professionals that rethinks the digital magazine. Built with QuarkXPress® 9 and App StudioTM, the second issue features even more interactivity that takes advantage of what's possible with the iPad. With scrollable layouts, slideshows, video, pop-ups, and HTML5, Jabber issue two pushes digital magazine design and includes:

Articles from leading design educators about the state of the industry
Instruction on how to integrate real-time Twitter feeds into articles
A showcase of student work created with QuarkXPress
Digital publishing insight from an American university
Tips for designing for the iPad and much more
Jabber is now available for free on the iTunes Store: http://itunes.apple.com/us/app/jabber/id477757782?mt=8.
To learn more about QuarkXPress and App Studio, please visit: http://www.quark.com/Products/AppStudio/.
About Quark
Founded in Denver in 1981, Quark's vision was to create software that would lay the foundation for modern publishing. For 30 years, Quark has delivered on that promise. Quark's dynamic publishing solutions are setting new standards in automated cross-media publishing by combining the power of XML with flexible layout and design to automate the delivery of customized, intelligent communications across print, the Web, and digital media.
Quark, QuarkXPress, App Studio, and the Quark logo are trademarks or registered trademarks of Quark Software Inc. and its affiliates in the U.S. and/or other countries. All other marks are the property of their respective owners.
Contact: Sarah Rector, Quark Software Inc., 303-894-3753, srector(at)quark(dot)com
###