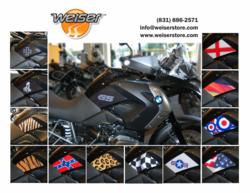 adds superb protection
Monterey, CA (PRWEB) March 20, 2012
Weiser Motorrad LLC. Manufacturer of specialty motorcycle accessories, known in the industry for it's popular 'Ultra Bright' LED turns signal inserts, for most BMW motorcycles and also many models for, Triumph, Aprilia, Moto Guzzi, Ducati and CanAm, adds to it's line up of premium products.
These innovative and cleverly designed Graphic Tank Protector Gel Pads, which have been developed and tested over the last 18 months, consist of exciting hi-resolution adhesive designs. Coated with 2mm of UV resistant gel. The gel is designed not to scratch or fade. (see photo)
Weiser Motorrad has launched this initial range with 12 designs, featuring images such as the most popular "GS" and "Dakar" inspired designs and also includes, Zebra, Leopard & Cheetah prints in recognition of motorcycling's "long way adventures". Also included are designs for the British Union Jack, Stars & Stripes and many other designs. "They offer superb protection to exposed paintwork and metalwork that will last, while creating a level of individuality never before available for the GS range of motorcycles. We are very excited by the response of GS owners and dealers who have seen the product. There is nothing on the market that does what this product achieves," says Mark Atkins, President of Weiser Motorrad Ltd.
Weiser Motorrad LLC. Sells direct to dealers across the USA and in the UK as Weiser Motorrad Ltd. Products include accessories for the popular BMW R1200GS such as the Weiser Heel Guard, Oil Cooler Guard, 'Ultra Bright' LED turn signal inserts, GS Pivot Covers now adding to the line up with it's attractive line of protective graphics.
Weiser Motorrad also sells direct to the public through it's own website http://www.weiserstore.com
For wholesale dealer inquiries or editorial samples please E Mail us or call direct at 831-886-2571