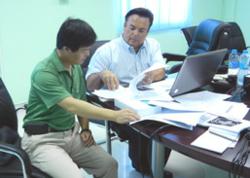 RQS helps lead international manufacturers through the complex requirements of selling medical devices in the United States
Snohomish, WA (PRWEB) March 06, 2012
Realistic Quality Solutions (RQS) has announced expanded quality and regulatory compliance services for the medical device industries outside of the United States.
"RQS helps international manufacturers understand the complexities and best methods of applying the requirements of the Food and Drug Administration's Quality System Regulations," according to RQS' President, John Sawyer.
"We guide our clients using practical and effective procedures that give them the confidence to build safe and effective medical devices worthy of import into the U.S. market. We have worked with clients in China, Denmark, Germany as well as manufacturers in countries needing product approvals and/or product registration."
RQS' focus is on patient safety and devices performing as intended. The RQS staff brings a balance of regulatory knowledge and realism into the decision making process that helps everyone involved in making crucial design and manufacturing decisions when importing medical devices into the United States.
The new RQS website, http://realisticqualitysolutions.com helps new clients understand the variety of services RQS has to offer concerning U.S. import and export laws and regulations for medical device manufacturers and exporters.
According to Sawyer, "RQS helps lead international manufacturers through the complex requirements of selling medical devices in the United States. RQS provides the knowledge and skills needed to successfully sell FDA-regulated products in the U.S."
A 30-year industry veteran, RQS' John Sawyer and his team are focused on understanding and overcoming obstacles involved with importing and distributing foreign made goods to the U.S. and helping the firm's clients comply with all applicable laws and regulations.
With the guidance of Realistic Quality Solutions, manufacturers outside the U.S. of high quality, safe and effective FDA-regulated products can obtain access to the US market. RQS brings to the international medical device industry access to legal and regulatory consulting services with respect to Strategic Planning, FDA laws and regulations, Customs and trade law, Product Development, and US branding. Some of the services provided include:

Risk Management Resources
Access to mechanical/electronic/plastics contract manufacturers
Access to marketing resources for labeling
Review of labeling and market strategies
Resources for product development, failure investigation, root cause analysis
Clinical resources: CRO, CRA to assist with clinical evaluations
Non-significant risk studies
Training for Executive Management & Technical Disciplines
Auditing & Preparation for FDA Inspections
Legal and Regulatory counsel to assist with FDA issues
Resources for R&D Innovation
Resources for Design, Software, & Process Validation
Resources for IT Management, ERP Implementation & Project Management
Reprocessing of Single-Use-Devices (SUD's)
In addition, RQS provides compliance assistance with FDA's Quality System Regulation, ISO-13485, European Medical Device Directive, and Canadian Medical Device Regulation for all device regulated activities.
Contact RQS for expert advice, counsel and application to your design and/or manufacturing project. Visit RealisticQualitySolutions.com for additional information on how RQS can help you overcome obstacles and break through the barriers to the U.S. market.
Realistic Quality Solutions
John Sawyer
Principal
Post Office Box 14446
Mill Creek, WA 98082
Business Phone: (425) 379-7617
Cell Phone: (801) 739-3070
Email: jsawyer(at)realisticqualitysolutions(dot)com
###
###