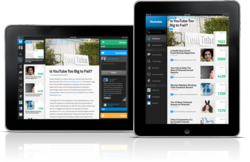 "Our diehard Mashable fans will love the ability to share to Facebook, Twitter and LinkedIn, all at the same time, with one click."
New York, NY (PRWEB) March 02, 2012
Mashable, a leading source for digital news and culture, announced today that it launched a new app for the iPad built to improve the way news is read and shared on tablets – and to make it more fun. The app is now available for free from the Apple app store:
mashable.com/go-to/ipadapp/
Key features of the app include:
·Innovative Design: App was designed and developed from the ground up to provide an enjoyable experience for readers to quickly find and read story after story.
·Built in Multimedia Viewer: The app includes a built in multimedia viewer to easily view photo galleries and embedded videos within the app.
·Single Share: Mimicking the "M-share" on Mashable.com, this app has a share feature that empowers Mashable's community to easily share to Facebook, Twitter and LinkedIn with one click.
·Social Pane: A newly developed social pane to read and write comments within stories.
"Our diehard Mashable fans will love the ability to share to Facebook, Twitter and LinkedIn, all at the same time, with one click," said Robyn Peterson, Chief Technology Officer, Mashable. "We wanted to break the mold of the traditional news app so we focused on creating an innovative design from the ground up that allows readers to easily find and read stories, enjoy multimedia and share with friends."
Mashable worked with Code and Theory to develop the new iPad app.
"This iPad app was the result of a great partnership; we worked in tight collaboration with Mashable to produce one of the very best content experiences on tablets to date," said Dan Gardner, Co-Founder & Director of UX, Code and Theory. "The app fully leverages the functionality of the device and beautifully showcases the site's amazing content. We loved Mashable before, but now we love it even more."
About Mashable
Since launching in 2005, Mashable has grown to be one of the most influential online news sites, winning three Webby Awards, growing staff and becoming the largest independent news site reporting on digital culture and technology. Mashable reports on the importance of digital innovation and how it empowers and inspires people around the world. Mashable's 23 million monthly unique visitors and over 5 million social media followers have become one of the most engaged online news communities. Numerous studies and leading publications have declared Mashable the most influential online news outlet and a must-read site. Mashable also syndicates its content to top publications including CNN, Metro, USA Today and Yahoo News, amplifying its reach to many millions of additional readers each month.
About Code and Theory
Code and Theory is a digital creative agency. We have built a team of creative, strategic and technical talent that come together to work in partnership with our clients to solve complex problems with solutions that break rules and disrupt conventions. The firm was founded in 2001 and has two full service offices in New York and San Francisco. We have worked for clients such as Vogue, Dr Pepper, Showtime, Current TV, Ebony, Calvin Klein and more. For more go to http://www.codeandtheory.com