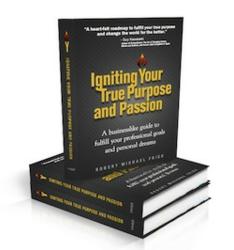 Too many personal growth attempts start by identifying and trying to fix weaknesses. Focus on finding and building from strengths.
Los Angeles, CA (PRWEB) March 02, 2012
As a leading marketer for Fortune 500 national brands including Motorola, Nautilus Fitness, Eddie Bauer and Revlon, Robert Michael Fried has applied his considerable creativity to how to live. His much awaited new book is like a success life coach in a box.
"Igniting Your True Purpose and Passion: A Businesslike Guide to Fulfill Your Professional Goals and Personal Dreams," is winning critical and reader acclaim. It was an Amazon best seller at launch and digital editions are available on Kindle, Barnes & Noble Nook, Sony Ready and iTunes. It will be available at major booksellers in the spring.
Igniting Your True Purpose and Passion is a compelling read and a profound road map to making meaning and money, says Jennifer Wise, Chief Editor for Vfirefly.com an online global women's network. The exercises in the book are designed to help one build self worth.
Too many personal growth attempts start by identifying and trying to "fix" weaknesses, says Fried. He helps reader focus on finding and building from strengths. He also shares lessons from his "own personal school of hard knocks."
"Igniting Your True Purpose and Passion" expands on many of the self help book points readers found helpful in Fried's 2005 book, "A Marketing Plan for Life: 12 Essential Business Principles to Create Meaning, Happiness, and True Success."
Mindful of readers whose experience may tilt toward business success or motivational self help, Fried frames his ideas for both worlds. Each chapter title defines both personal and professional insight. For instance, Assess the Market (professional or business insight) is subtitled Capitalizing on Your Own Strengths (personal). Others chapter titles include Weather the Product Cycles, or Reinventing Yourself at Every Stage; and Plan Your Distribution, subtitled Investing Your Time and Energy Wisely. Twenty pages of personal exercises add to the book's value as affordable, DIY professional coaching.
For people who have been unemployed, "Igniting Your True Purpose and Passion" can be an excellent guide and mentor, particularly now that business indicators show this is a great time to gear up and pursue a dream job. "Igniting Your True Purpose and Passion" will also support one in the inevitable experience of dealing with stress as well as the many decisions presented by a job search. Fried has also launched a new online community to help readers connect and support one another.
Robert Michael Fried is a respected keynote speaker. His speech credits include Wells Fargo Advisors, Canyon Ranch Life Enhancement Center, Clint Eastwood's Tehama Resort, Naval Post Graduate School, the Signature Eyewear Sales Group in Italy and graduate business schools at NYU, UCLA and USC.
Videos showing Fried discussing some of his key ideas are available at thirdwind.com.
Thirdwind.com is an interactive community dedicated to empowering people to achieve "true" success by realizing both their professional goals and personal dreams. Thirdwind hones in on 12 principles for achieving "true" success. These 12 principles below will resonate with anyone seeking to understand how to combine meaningful work with a significant paycheck.Robert Michael Fried is a respected author and in demand keynote speaker on topics such as self-growth, marketing and business. He speaks to corporate teams, civic groups and university students. His books have been recognized in the New York Times business section and achieved number one best seller status on Amazon in the success, self help and personal transformation categories. Fried continues to work as a marketer, and co-founded BrandMark, Inc., focusing on high-profile international clients. He speaks frequently on corporate and college campuses, including Wells Fargo, and graduate business schools including NYU, UCLA and USC.
Contact:
Wandia Chiuri
Director, Social Media Marketing
wandia(at)thirdwind(dot)com