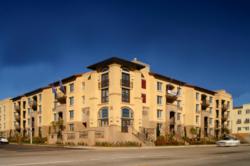 Los Angeles, CA (PRWEB) March 02, 2012
When:
Wednesday, March 7
10 a.m.
Where:
Lorena Heights Apartments
3327 E. Sabina, Los Angeles (North of 60 Freeway at Lorena Street)
What:
Councilmember José Huizar, City of Los Angeles, 14th District, will join the community and executives of The Michaels Organization and LINC Housing to celebrate the grand opening of Lorena Heights Apartments, a $40-million urban infill rental community that will provide 112 units of much-needed affordable housing in the Boyle Heights neighborhood of Los Angeles.
Featuring both two- and three-bedroom floor plans in two, four-story contemporary buildings, Lorena Heights will serve working families earning 30 to 60 percent of the area median income. Other property highlights include a picnic area, playground, and a community recreation center that features the restored façade of a historic church that once occupied the site. In addition to the newly constructed homes, residents will also enjoy on-site supportive services, including an after-school program, administrated by LINC Cares.
Financing for Lorena Heights came from several sources, including $5 million of infill infrastructure funds from the California Department of Housing and Community Development and another $5 million from the California Pollution Control Finance Authority. The development also benefited from $2.4 million of federal low income housing tax credits as well as support from Bank of America Merrill Lynch and Prudential Huntoon Paige. Other partners on the project, which stimulated at least 75 local jobs during the construction phase, include architects, KTGY Group, Inc., and general contractor, CMSI/Advent Companies.
Who:
Councilmember José Huizar - City of Los Angeles, 14th District
Dave Lukens, Vice President, Michaels Development Company
Hunter L. Johnson – President & CEO, LINC Housing
Victor - Lorena Heights Resident
Visuals:
Ribbon cutting ceremony
Common areas and an apartment will be available for photography and viewing
Interview opportunities including testimonials from residents
AboutThe Michaels Organization
Michaels Development Company is part of The Michaels Organization, a family of companies dedicated to excellence in affordable, mixed-income, student, and military housing. Michaels Development Company is the number-one ranked privately held affordable housing owner in the country and in 2010 was named the Multifamily Development Firm of the Year by the National Association of Home Builders. Its sister company, Interstate Realty Management, is an award-winning property and asset management company offering nationally acclaimed social services. Visit http://www.TheMichaelsOrg.com to learn more.
About LINC Housing Corporation
LINC Housing, one of California's most productive nonprofit developers of affordable housing, has helped create more than 7,000 homes in 60 communities throughout the state. The organization's properties are known for excellent design, outstanding management and life-enhancing services for its residents. LINC has 27 years of service to families, seniors, and local governments helping to create sustainable communities via new construction, acquisition and rehabilitation, and historic preservation. Visit http://www.linchousing.org for more information.