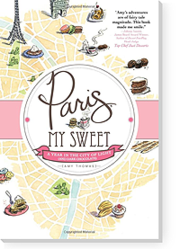 Like a tasty Parisian bonbon, this book is filled with sweet surprises.
New York, NY (PRWEB) March 02, 2012
Three Tarts Bakery + Boutique – the Chelsea dessert destination named a top ten location for dessert lovers in New York by TimeOut New York Magazine is hosting a book signing with Amy Thomas, author of Paris, My Sweet: A Year in the City of Light (and Dark Chocolate) on Thursday March 8, 6-8 pm, at Three Tarts - 164 Ninth Avenue at 20th Street. The Manhattan treat maker whose gourmet marshmallows were not only named a hot food trend of 2012, but have recently been featured on Good Morning America, The TODAY Show, ABC's The Chew, NBC's New York Live as well as in O Magazine, People, and The New York Times Style Magazine show they parlez vous Francais by spotlighting their French Macarons alongside the Parisian foodie book.
A girl obsessed with all things French, sweet freak Amy Thomas landed a gig as rich as molten chocolate cake: leave Manhattan for Paris to write ad copy for Louis Vuitton. But as much as Amy adored Paris, there was part of her that felt like a humble chocolate chip cookie in a sea of pristine macarons. Paris, My Sweet explores how the life you're meant to live doesn't always taste like the one you envisioned. Part love letter to Paris, part love letter to New York, and total devotion to all things sweet, Paris, My Sweet is for anyone with a hunger for life.
"Like a tasty Parisian bonbon, this book is filled with sweet surprises."—David Lebovitz, New York Times bestselling author of The Sweet Life in Paris
Three Tarts will be serving complimentary sparkling wine and offering a free French macaron or house made marshmallow with every book purchase. Free Three Tarts t-shirt with purchase of two or more books.
Rising Tide Group is the marketing department for small business. We're the general contractors who fulfill our clients' needs in marketing, public relations, promotions, social media, digital marketing, social technology, and brand building.