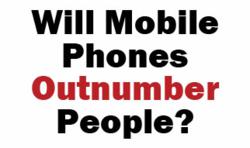 Soon Mobile Phone Might Outnumber People
(PRWEB) March 04, 2012
While many rush to the nearest mall to grab the latest mobiles, a Dubai based marketer wonders if mobile phones will soon outnumber people in the near future.
As Kishore shared, "After visiting hundreds of forums about mobile phones and gadgets, I was inspired to do a survey on the topic to see how online users feel about this increasingly important topic."
Several studies have been going on about the growing number of mobile phones, including the recent Cisco Visual Index . According to Cisco Visual Index, by the end of the year of 2012, there will be more mobile phones in use than the actual number of people on earth. This result includes the growth of mobile internet, video, data and smartphones.
With the increasing consumer demands for mobile phones and other devices, companies like Apple, Nokia, Samsung, Sony, LG and Motorola have widened their offering of mobile devices. Companies expect the increase of mobile phone use largely from Middle East and Africa - along with the Asia Pacific region which reportedly to be experiencing an 84 percent growth in mobile phone ownership.
Kishore also revealed another reason for taking his gadget quiz to the world. "I have seen several studies being undertaken by similar topics, but a crowd sourcing answer has never been received for such a topic. I thought it would be interesting to see the results of such a survey."
Utilizing sophisticated database technology as part of his role as an Internet expert, Mr. Kishore will publish the answer to "Will Phones Out Number People?" once responses to his gadget quiz have been tabulated from around the world.
Kishore encourages people of all countries to take the gadget quiz. Respondents will be added to a special notification list alerting respondents when survey results are published. The survey, and the details of the participation, can be viewed at http://www.coreappliances.com/
Several online newsletters have publicized the gadget quiz. Mr. Kishore hopes to make world news of a more informational kind when he has the answer in hand.
To submit answers to the question, "Will Mobile Phones Out Number People?" and register to discover the collective responses when results are made available, visit the Gadget Survey or reach Kishore Dharmarajan directly at (0097150) 698-6164.
About:
Kishore Dharmarajan is the author of Sniper Marketing and a trusted authority on Social Media Marketing and Digital Marketing. Besides Sniper Marketing, Kishore Dharmarajan has published two books including Eightstorm: 8 Step Brainstorming for Innovative Managers, Beyond Guerrilla Marketing, How to Think & Innovate Like Steve Jobs and has spoken in front of thousands on such topics as Social Media Marketing and Digital Marketing.
###