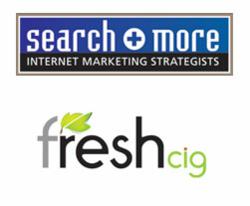 We're really looking forward to working with Freshcig and believe that this will be the start of a long and successful partnership.
(PRWEB UK) 4 March 2012
Search and More, the North West's most dynamic internet marketing strategist, is pleased to announce that it has added yet another high-profile client, Freshcig UK, to its growing portfolio.
Freshcig is the UK's favourite electronic cigarette supplier, and has built an enviable reputation in the market by offering its customers value for money, unprecedented levels of customer service and choices: the choice of a healthier and cheaper alternative to smoking tobacco-based cigarettes, the freedom to legally smoke in public spaces, and the UK's best and widest choice of flavours to suit every one of its customer's individual tastes. Freshcig's ultimate goal has always been to give its customers what they want, when they want it, at a price that suits. Freshcig is determined to continue to deliver these goals, and has turned to Search and More, the internet marketing strategists of choice, to help it consolidate its rightful place in the market.
Search and More are the internet marketing experts of choice in the region with a proven 10 year track record of making business work better and smarter. Search and More does not approach internet marketing in the traditional way. It looks at the whole picture, and does not focus purely on search engine optimisation (SEO). SEO might improve short-term search engines ratings, but it isn't necessarily sustainable and can never guarantee businesses the sort of results they would ideally like. Search and More prefers to use a more rounded, holistic approach that focuses on every aspect of a business's internet marketing strategy.
To get any website noticed, it needs to rank highly in the search engine results, and to achieve this it needs to provide relevant and useful information – 'keywords'. The simple truth is the higher the ranking on Google, Bing and other search engines, the more people will click on the website. Every extra click could be a potential new sale. The aim of search engine optimisation (SEO) is to improve search ranking for chosen 'keywords'. Not all websites can be on the first page, there are only 10 places available, but with some effort Search and More can give any website the advantage that will hopefully take it to number one.
Search engines like Google and Bing are incorporating more into their search results all the time. Images, videos and most recently real-time streams from social media websites such as Twitter and Facebook are all making it on to the search results pages. Google's live search has just launched, and brings yet another dimension to the world of Search Engine Optimisation. Because Search and More keep abreast of all these changes, it is able to offer clients the latest techniques for improving search engine ranking and increasing the traffic to a website.
Every website is different. Every one will have its own strengths and weaknesses and each will have differing needs and requirements. We tailor every SEO package around the client's business, as one size does not fit all. To begin with, Search and More will carry out a detailed analysis of the website and produce a report explaining what needs to be done. The only charge will be for any work that needs to de done to improve the overall search engine rankings.
Search and More offers

Analysis of the website and a detailed report
Keyword analysis and report
Competitor analysis
Analytics setup
Metadata setup
On-page optimisation
Keyword optimisation
Directory submissions
Link building
Content creation
Successful internet marketing relies on providing the complete package. Search and More's team of experts know what works, and what doesn't and therefore look at each component part of a website to help businesses build this package: from web design to usability, SEO, social media marketing, copy writing, conversion rate optimisation, and e-commerce. Search and More's team help businesses build an integrated, targeted campaign that attracts and engages website visitors.
Managing Director, Robert Gaskell, confirmed the details of the new deal and expressed his satisfaction that Search and More has been able to add such a respected and established North West company to its growing list of clients:
"Search and More is delighted to welcome Freshcig on board. They are a nationally respected company, with a fantastic reputation for delivering a quality product, value for money and superb customer service. We're really looking forward to working with Freshcig and believe that this will be the start of a long and successful partnership that will be of significant benefit to both businesses in the longer term."