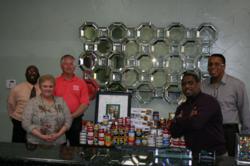 McKinney, TX (PRWEB) March 02, 2012
For February's monthly service project, RMCN choose to donate food items to The Samaritan Inn. The Samaritan Inn is more than just a place to spend the night. It is a holistic program that teaches self-sufficiency and life skills.
To assist the needs of individuals and families before, during, and after a homeless situation.
The Samaritan Inn provides interactive, in-house programs for its residents and graduates. It is the only such facility in Collin County. With the help of RMCN's employees we were able to collect hundreds of different food items raging from peanut butter, to canned meats, spaghetti noodles & sauce to bags of chips for lunch.
###