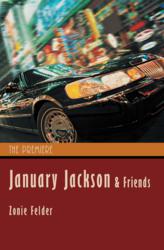 "It's a must read!"
Zonie Felder
Jersey City, NJ (PRWEB) March 05, 2012
Reaching a new level of success, January, an established restaurant owner, invites her best friends to celebrate with her when a surprise the likes of which no one has ever expected turns her celebration into something else, entirely. January is forced to choose sides as lines are drawn in the sand. Behold how lust and passion can quickly cloud judgment- and how wrong choices will forever change a friendship. When the dust settles, who will be left standing and able to pick up the pieces?
"January Jackson and Friends:The Premiere" is published by iUniverse. ISBN:978-1-4620-8355-8 (softcover) 978-1-4620-8354-1 (hardcover) 978-1-4620-8353-4 (e-Book)
All versions are available now at: http://www.iuniverse.com
About the author:
Zonie Felder was born and raised in Jersey City, New Jersey, and has worked for four years as a resident supervisor at a local halfway house. Never imagining at this point in her life that she would become a published author, Felder is elated to have completed one of her lifelong dreams through the publishing of her first novel. Felder's interest in relationships, the true nature of friendships, and how times passings effects both of them resulted in the writing and publishing of "January Jackson and Friends:The Premiere," the first installment in her exciting erotic series-January Jackson and Friends.
**Also available online at: Amazon.com, Barnes and Noble.com, The Book Depository.com, Powells.com, and eBook-eros.com.
Visit: Felder's facebook page at "January Jackson and Friends:The Premiere" and Book Daily.com, a book sampling site where Felder's book will be featured-joining the ranks of the most famous authors in the world.
UPCOMING BOOK SIGNING:
On Wednesday March 14, 2012 at Sanai's Restaurant&Lounge-510 Summit Ave.J.C.N.J.07306. 201-795-9393** 6PM to 9PM** parking available on site.