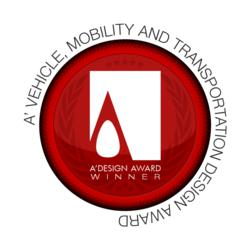 Efficient and energy saving designs will be especially highlighted.
Como, Italy (PRWEB) March 02, 2012
Today, A' Design Award & Competitions announced a call for submissions for the "Vehicle, Mobility and Transportation Design Award", which is a free-style design competition open to submissions of vehicles, mobility devices and transportation vessels.
The award is open to submissions from manufacturers and designers alike, both realized designs and concept-stage designs can be nominated. Any designer or manufacturer who would like to highlight their products is invited to take part in the award.
The best products are selected according to form, functional and emotional aspects of the product, and participating products are further considered for their degree of innovation, aesthetic qualities, functionality and usefulness in addition to energy efficiency.
The award was designed to attract the attention of design-oriented consumers to well-designed vehicles by means of creating publicity and dissemination through multiple channels. Winning entries will receive free communication and publication services from A' Design Award in addition to the award trophy, certificate, badges, logo and other services that are provided to award winners.
Unlike any other awards in transportation sector, winners are not obliged to make any further payments for winning the award and each of the services listed in the winners benefits page at adesignaward.com will be provided free of charge, with a single-time nomination fee of 375 Euros. Prospective participants can apply online at adesignaward.com.
A' Design Award is organized in many diverse categories therefore the prospective winners of the A' Design Award can expect to reach an audience that is wider than their own niche: the award not only reaches the specific media in construction & building industry, but more importantly, it reaches a wider, design oriented public such as architects and interior designers. Previous winners of the Vehicle, Mobility and Transportation Design Award can be accessed from the awardeddesigns.com together with other category winners.
About the A' Design Award: The A' Design Award & Competition is an annual international design award and competition aiming to highlight design oriented products, services and offerings. A' Award present its winners with publication and advertising opportunities. Further information regarding the award could be accessed at: whatisadesignaward.com