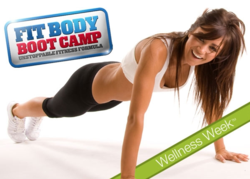 We took over 70% off of our program fees in order to fit professional fitness training into anyone's budget.
Chino Hills, California (PRWEB) March 04, 2012
Fit Body Boot Camp is the fastest growing fitness boot camp franchise in the country. It is celebrating Wellness Week from March 19 – 25 by joining forces with Spa Finder to provide two discounted packages for people to take advantage of.
"Wellness Week is all about having the opportunity to get discounted treatments and fitness packages," says Bedros Keuilian, the man behind Fit Body Boot Camp (FBBC). "We are offering a 16 Day Sexy Slim Down or a 4 Week Total Body Transformation. The special prices mean that people taking up the offer can get between 74% - 76% off the normal prices. They will also find out what Fit Body Boot Camp is all about."
Fit Body Boot Camp does not have a Mission Statement on its website. Instead it has a Vision. This vision is to reach 20% of the world's population by 2020. It aims to do this by opening more franchise locations around the world. The franchisees earn money from a successful business model while those using the services benefit from taking part in a boot camp training program that leaves them fitter and healthier than before. It is very different to a traditional gym.
"Both discounted programs offer personal and group training," said Bedros Keuilian. "Everyone has access to workouts created by experienced specialists in the field. The instruction is also personal, meaning that it focuses on the individual's needs rather than providing general information."
The workouts included in the deal are at least 30 minutes long. The longest ones are 60 minutes long. They can lead to weight loss, better sleep and more energy for those who take part.
"We took over 70% off of our program fees in order to fit professional fitness training into anyone's budget. We're convinced that once someone experiences the results from a well designed fitness program, they'll find a way to fit it into their lives," says industry leader and boot camp marketing expert Bedros Keuilian.
Fit Body Boot Camp is based in the USA. The boot camp marketing system is designed to help those who want to build a successful fitness business using the best marketing techniques available. It is run and maintained by Bedros Keuilian and currently reaches more than 290 boot camp locations around the world. More information about the special deal between Spa Finder and Fit Body Boot Camp can be found at http://ptpower.com.
# # #