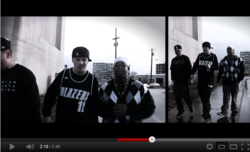 Miami, FL (PRWEB) March 05, 2012
Rap artist Caspa recently released the official video for his single "Let's Ride," which features Thai and Struggle. Coast 2 Coast Video Distribution presents the project along with TI Kings ENT. "Let's Ride" will be featured on Caspa's upcoming album Actions Speak Louder Than Words. The video was shot and directed by Louis Sierra and TI Kings ENT.
Caspa was born in Portland, OR and raised all over the state. While he has been working on music his whole life, he started taking it seriously about three years ago. He started out listening to a 2Pac cassette tape that his older brother left on top of the TV, and now lists some of his influences as Ludacris, Tech N9ne, Crooked I, Snoop Dogg, Lloyd Banks, Cassidy, and Hopsin. "Let's Ride" will be the first single from his upcoming album entitled Actions Speak Louder Than Words, featuring fellow Portlanders Thai and Struggle the Voice. His current focus has been completing and promoting the album, and working on getting it into stores.
"Let's Ride" is available to view at http://www.youtube.com/watch?v=8_gU9bKR79I
# # #