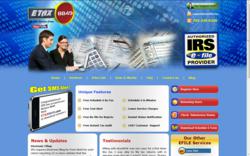 Visit Etax8849.com to begin filing Form 8849 Today!
(PRWEB) March 02, 2012
Etax 8849 is a new site developed by Tax2efile. Tax2efile is a leader in e-filing services and provides easy to use e-filing services for users both big and small. From corporations down to Individual Owner Operators, Tax2efile is continuously designing new and improved services to assist in e-filing IRS tax forms.
Etax8849 is designed to assist users in e-filing IRS Form 8849- A Claim of refund for excise tax. If users filed incorrectly on previous Form 2290 or didn't operate the vehicles to the extent of taxable mileage then Form 8849 is the way to get a refund of those excise taxes previously paid. The E-filing system used by Etax8849 is easy to use and offers live chat support and customer service from tax professionals with years of experience.
Use Form 8849 to claim refunds of excise taxes reported on Form 720, 730, or 2290, including the repealed luxury taxes. Also use Form 8849 to claim refunds of excise taxes imposed on fuels,
chemicals, and other articles that are later used for nontaxable purposes or for which there is a
reduced rate of tax
Visit Etax8849 to begin filing today!
###