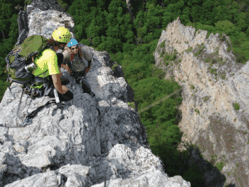 (PRWEB) March 03, 2012
2012 is shaping up to be an exciting year at the Nelson Rocks Outdoor Center. Opening this year, in time to celebrate ten adrenaline-filled years of climbing and exploration, is the spacious Welcome Center and the cozy guest rooms. The new Welcome Center will offer refreshments, healthy snacks, and merchandise for sale. It will also include a comfortable lounge area for day visitors and overnight guests to relax and share stories. The guest rooms provide motel-style lodging complete with amenities such as a private bath, AC/heat, and wireless Internet.
It was ten years ago this spring that a team of American mountain climbers got together to bring Stuart Hammett's vision of a world class Via Ferrata to life in the rugged hills of West Virginia. It was no small feat, but after several months of sweat and ingenuity, the first Via Ferrata to be built by Americans was completed and opened to the public. Since then, well over 15,000 people have harnessed up to experience the route. The mile-long route gains 1,000 feet and leads climbers through 280 feet of vertical exposure. It also incorporates a 220 foot suspension bridge that connects the two towering fins of Nelson Rocks.
The property has evolved since the first renegade days of Via Ferrata climbing. In May of 2011, the North Fork Valley Canopy Tour opened to give thrill-seekers another opportunity to get their feet off the ground. The high-flying Canopy Tour includes 12 zip lines of varying lengths and heights, three sky bridges and ends with a 40 foot rappel out of a sprawling cucumber magnolia tree. Both adventures are guided and affordable making the Nelson Rocks Outdoor Center an unforgettable destination for families, friends, and groups to spend the day or the week.
# # #