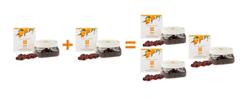 Salt Lake City, UT (PRWEB) March 02, 2012
Sibu Beauty, the premium line of sea buckthorn berry-based beauty and wellness products added a new way to keep the beauty going for an extra month at a savings! The well-regarded company that makes 100% natural sea buckthorn topical and ingestible products announced today that when people buy 2 of their Cellular Support Omega 7 Gel Caps through their website http://www.sibubeauty.com they will get an additional one free.
The popular and effective Gel Caps nourish and protect the body from the inside-out by delivering over 190 bio-actives, vitamins, Omegas 3, 6, 9 plus skin-hair-and-nail-loving Omega 7. Sea Buckthorn has been used for centuries in eastern civilizations and studies have shown that it promotes collagen and mucous membrane production and contributes to healthier internal functions. Dr. Memet Oz also suggested sea buckthorn as a natural way to help lose weight.
For more information about Sibu Beauty and the health benefits about the powerful and nutrient-rich sea buckthorn berry, please visit http://www.sibubeauty.com.
About Sibu Beauty
Sibu Beauty (http://www.sibubeauty.com) was introduced in early 2009 to provide customers worldwide with a comprehensive approach to beauty from the inside out and outside in. The Sibu Beauty product line is based on a powerful and distinctive whole food source, the sea buckthorn berry. This super food is backed by hundreds of scientific studies demonstrating its success at addressing a variety of consumer needs including improved skin tone and texture, healthy aging and digestive health and noticeable improvements in cardiovascular fitness, energy and weight loss.
About Sibu, LLC
The products of Sibu Beauty - a subsidiary of Sibu, LLC (http://www.sibu.com), and "The Sea Buckthorn Company" - are made with only premium sea buckthorn berries exclusively grown and harvested for the company in the Himalayan Mountains of Tibet. The company's meticulous harvesting process results in a more hardy and potent berry. Sibu's proprietary manufacturing process maximizes the efficacy of sea buckthorn raws, producing one of the most nutrient dense sea buckthorn products available on the market today. The Tibetan villagers who are responsible for harvesting Sibu Beauty's sea buckthorn berries benefit from a fair trade agreement, safe and healthy working conditions and environmentally responsible practices that ensure they will enjoy the benefits of the sea buckthorn harvest for years.
# # #