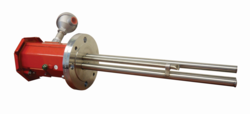 PITTSBURGH, PA (PRWEB) March 06, 2012
Chromalox, a leading manufacturer of electric heat and control products, today announced the introduction of its newest product line extension – the Small Tank Flange Heater (STFX). Designed primarily for the oil and gas exploration, power generation and chemical industries, Chromalox STFX style units allow heating elements to be changed without draining the tank. Replaceable-style elements can be easily changed by one person with no special tooling required. This is ideal for smaller, critical system storage units that need to remain filled for continuous operation and storage.
The model STFX is offered in multiple designs with varying watt densities which allow it to meet a variety of needs in applications ranging from viscous fluids, such as asphalt or Bunker C oil, to free-flowing oils, such as hydraulic fluids or lube oil. The small tank heater can also be used for water, and water/glycol or acidic mixtures as well as fire water storage and freeze protection. It is compliant with API-614 standards and is CSA certified.
"Chromalox is excited to announce the introduction of the STFX tank heater," said Mark Wheeler, global product director for Packaged Systems & Service at Chromalox. "Given its adaptability to a variety of applications, STFX is ready to claim its place in the tank heating market."
The STFX is available in a variety of standard designs for the most common applications. Each unit is equipped with a type J thermocouple for over temperature sensing on the pipe wall. Each design can be matched with a corresponding control panel to ensure seamless operation. With the broadest product line in the industry, Chromalox provides heat and control solutions for more processes than any company in the world. For more information about Chromalox, visit http://www.Chromalox.com.
A high-resolution photo is available here.
About Chromalox, Inc.
For more than 90 years, customers have relied on Chromalox for the utmost in quality and innovative solutions for commercial and industrial heating applications. Chromalox manufactures the world's largest and broadest line of electric heat and control products, including heating components, immersion heaters, circulation systems, heat transfer systems, boilers, industrial and comfort air heating, heat trace cables, sensors and precision electronic controls. With multiple manufacturing, engineering, warehousing and sales locations throughout North America, Europe and Asia, Chromalox is a global supplier providing the highest level of customer support. Chromalox is headquartered in Pittsburgh, PA. For more information, visit http://www.Chromalox.com.
###