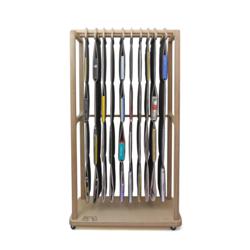 A Fun and Unique Way to Store Books: The FA.B. Fabric Bookcase is a Silver A' Design Award Winner
Como / Italy (PRWEB) March 02, 2012
With its crazy, outstanding and innovative design, the FA.B. Bookcase by Aliki Rovithi of Dede Dextrousdesign managed to impress the jury members of one of the most prestigious international design competitions – the A' Design Awards. The FA.B. Bookcase was awarded the Silver A' Design Award by the jury consisting of world-class experts, top-academics and a focus group of design oriented end-users. During evaluation, the bookcase design was judged for its form, functional and emotional aspects and was further considered for its degree of innovation, aesthetic qualities, functionality and usefulness.
Dede Dextrousdesign has also been granted with the A' Design Award Winner Seals and Labels, which could be applied for their products to indicate their achievement in high design quality. The award winning bookcase design FA.B. will be exhibited at the A' Design Award Exhibition in Italy and will be presented to press members and the design public in the A' Design Awards' Gala-Night, and will be published in the A' Design Awards' Winning Designs Yearbook.
About the Award Winning FA.B Bookcase : The "FA.B." is a fabric bookcase and a fabulous new way to store, arrange and protect your books and magazines. Outside the rationale of any shelving system, "FA.B." offers the user renewable storage space. Single or more modular fabric units can be added to the wooden stand in a few minutes. The durable fabric along with the wide open wooden sides of "FA.B." gives us the opportunity to use as little raw materials and natural resources as possible, according to the dematerialization approach that our times require.
About Aliki Rovithi and Dede Dextrousdesign : Aliki Rovithi and Foant Asour formed the famous Athens based industrial design studio DEDE DextrousDesign in 2007, since then they have participated in numerous exhibitions and design fairs worldwide, winning many other prestigious awards on the way. DEDE think that innovation, conceptual approach and humor can generate unorthodox and stimulating thinking that contributes to progressive ideas and therefore to unconventional design items.
High Resolution Images and Further Information : Further information and high-resolution images for the award winning FA.B. Bookcase together with the profile of Aliki Rovithi of Dede Dextrousdesign is available online at A' Design Award website, at address: http://www.adesignaward.com/design.php?ID=25345
About A' Design Award and Competitions : A' Design Award and Competitions, aims to highlight the excellent qualifications of best designs, design concepts and design oriented products. A' Design Award and Competitions are organized and awarded annually and internationally in a multiple array of categories to reach a wide, design-oriented audience. Further information regarding the award can be obtained at whatisadesignaward.com